David Saker: Stuart Broad form a worry ahead of England's third Test with India
England bowling coach David Saker hopes Stuart Broad can rediscover his best form for the third Test against India.
Last Updated: 27/11/12 10:03pm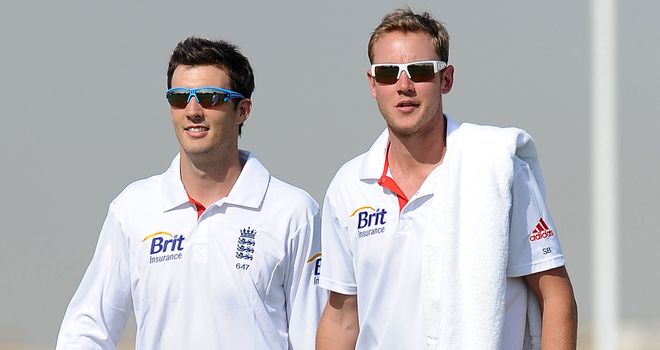 Alastair Cook's side levelled the four-match series with a 10-wicket victory in Mumbai on Monday, where the spin of Monty Panesar and Graeme Swann proved too much for the hosts.
However, Broad only managed 12 wicketless overs at a cost of 60 runs, having declared himself fit for the second Test despite feeling unwell the day beforehand.
"It is a bit of an issue," admitted Saker. "He has not bowled as we would have liked, but he's not the first bowler to come over here and find it hard."
Steven Finn could feature in the third Test, with the fast bowler set to test his recovery from a thigh strain in the three-day match for the England Performance Programme squad against the DY Patil Academy.
Selection poser
Finn has played no part on tour since injuring himself in the first warm-up match against India A, and will go home if he fails to come through the EPP fixture.
"We've got our fingers crossed he gets through, number one," said Saker.
"If he gets through unscathed and bowls well, his name will definitely be talked about for selection.
"He's got that x-factor, a bit of pace, that height that always means you could get variable bounce over here, so his name will be bandied around for sure for that second seamer's spot."
Finn appeared to be recovering well until a setback just before the second Test, and for that reason England are taking nothing for granted.
"We were really confident he'd be right for this Test, so I'm not sure," said Saker.
"I've just got my fingers crossed he gets through; if he does, we can make a decision.
"We're not getting too far ahead of ourselves. We want to make sure he gets through his three or four spells and gets some rhythm; then his name will come up."
Success
The depth of anxiety among England's management was significant after the nine-wicket defeat in Ahmedabad.
It was England's fifth in Asian conditions this year, and Saker said: "I think everyone in the group was feeling pressure, there's no doubt about that.
"I can only talk from where I was coming from, but I was questioning myself as to whether we were doing the right things.
"If I'm doing that, I think probably others in the camp were wondering if we were going in the right direction."
Series-levelling success in Mumbai has changed all that.
"I wasn't sure what we'd get out of the group ... but it turned out to be as good a win as I've ever experienced with them.
"It wasn't relief; it was a feeling of all the work we've done with this group against spin, and playing in the sub-continent, had come off - and we were really pleased with that."