Shane Warne believes he is still capable of playing Test cricket if Australia call on his services
Shane Warne says he would answer a call from Michael Clarke if needed to bolster Australia's spin options.
Last Updated: 04/12/12 11:44pm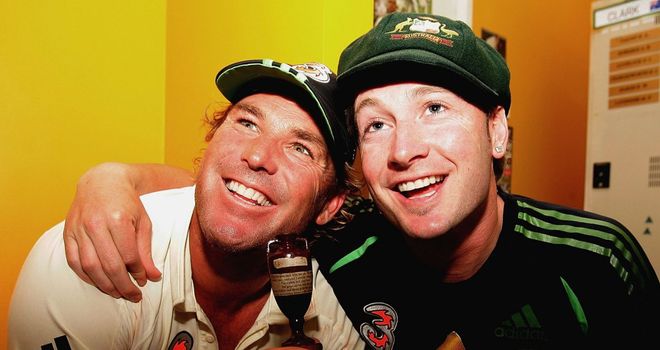 The leg-spinner, who is the second highest wicket-taker of all time in Tests with 708 scalps, called time on his Test career following Australia's 5-0 Ashes whitewash of England in 2007.
However, the 43-year-old insists he could still perform at Test level and has not dismissed a return to the side skippered by best friend Michael Clarke.
"If your best friend says 'mate, I want you to seriously consider making a commitment to Australian cricket and coming back out of retirement', (to) make myself available for selection, that's a different scenario," Warne told an Adelaide-based website.
"Especially with back-to-back Ashes coming up next year, it could be a 12-month thing where you take three spinners with you and say, 'Righto, work with these spinners and see how you go for 12 months.' That's a different kettle of fish.
"I'm definitely not asking for Michael Clarke to come out and say that - that's a different scenario.
"You asked me if I think I could still play international cricket if I wanted to just turn up, do my bowling and if the first Test match was in three weeks, do you think I could play? I'd have no hesitation in saying yes - and I think I'd do pretty well.
"From a purely bowling perspective, I don't think my form would be the concern, it's just the time and actually making that commitment again."
Warne admitted he found it painful watching Australia's recent series defeat against South Africa, where off-spinner Nathan Lyon did little to enhance his chances of regular selection in the defeat in the third Test in Perth.
"I felt like I wanted to jump off the couch and grab the ball," Warne added. "When you've got international bowlers bowling one or two full-tosses an over and half-volleys, I felt for Pup (Clarke), I really felt for him."