India omit Virender Sehwag for three ODIs against England later this month
India have dropped Virender Sehwag for the first three one-day internationals against England later this month.
Last Updated: 07/01/13 9:34am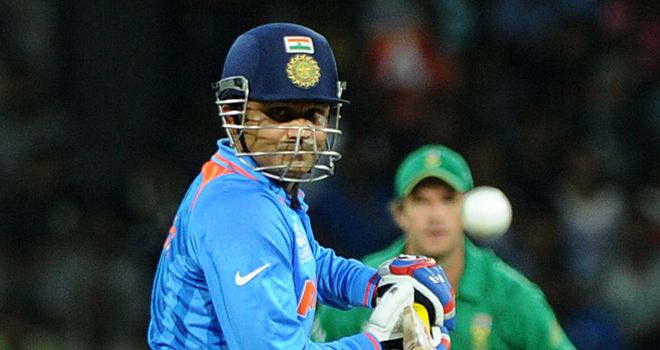 India's players have suffered severe criticism from their country's media following the recent series defeat by Pakistan.
And now Sehwag, who was dropped for Sunday's third and final clash with Pakistan, has paid the price ahead of the games against England.
The 34-year-old has been ditched by India's selectors for the matches in Rajkot, Kochi and Ranchi.
Gautam Gambhir has been retained, while Mahendra Singh Dhoni remains skipper.
Cheteshwar Pujara, who scored 206 not out and 135 against England in the Test series during autumn, has been added to the squad as Sehwag's replacement.
Ravinchandran Ashwin and Amit Mishra are the frontline spinners but veteran Harbhajan Singh misses out.
India squad for first three ODIs against England: MS Dhoni (c), G Gambhir, A Rahane, C Pujara, R Sharma, Y Singh, S Raina, R Ashwin, R Jadeja, A Mishra, I Sharma, A Dinda, S Ahmed.
ODIs: 1st (Rajkot) Jan 11; 2nd (Kochi) Jan 15; 3rd (Ranchi) Jan 19; 4th (Chandigarh) Jan 23; 5th (Dharamsala) Jan 27.