Debutant Bruce Martin thrilled to dismiss Kevin Pietersen in Wellington
Bruce Martin was thrilled to claim the wicket of Kevin Pietersen on the second day of the second Test with England.
Last Updated: 15/03/13 9:32pm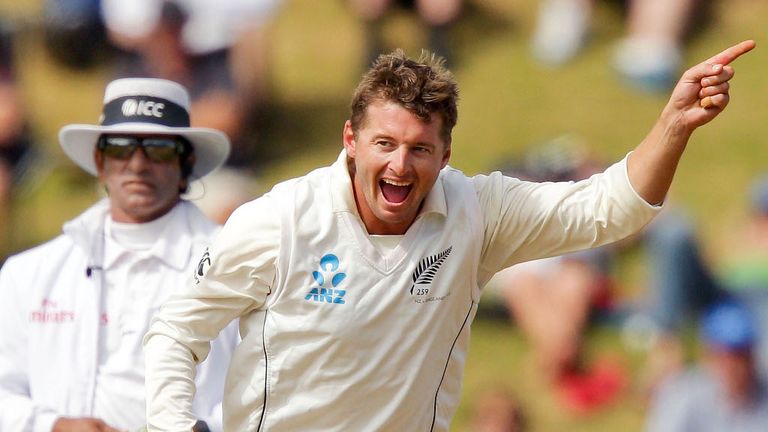 Left-arm spinner Martin took 4-138 in his 48 overs, with Pietersen, Ian Bell and Joe Root his second day victims, added to the scalp of Nick Compton on Thursday.
Martin, 32, has waited longer for his first cap than any other New Zealand - 115 first-class games - and he admits he is loving every minute of his first Test.
"I've had 13 years to visualise playing Test cricket," he said. "I've been playing this game for a long time in my head, so it's nice to get out there and have a crack. Today was good, I picked up some pretty big wickets."
Martin's first ball of the day was smacked over his head for six by Pietersen, but Martin then kept the England superstar tied down, and then dismissed him with a classic piece of spin bowling.
Nice
He beat Pietersen in the flight, and the batsman - trying to launch Martin out of the ground again - mis-timed his shot to mid-off.
"It's nice to test yourself against a guy like that. He's pretty ruthless the way he gets forward and gets back, such a big fella, and it was hard to get past him there at times," Martin said.
"He's such an imposing figure with the bat. I wanted to try and get in the fight a little bit, let him know I was there.
"Every time I get a bowl out there I just treat it as my last Test and I've got to perform. That's kind of what's like when you are my age.
"You have to keep putting the numbers up there and make them pick you. It's all gone past so quick that it's a bit of a blur to be honest. Test, sleep, Test. It's a way it's nice to get a bit of reward for 100-odd games of toil."