Shane Watson could captain Australia in final Test with India
Shane Watson could captain Australia in the fourth Test with India despite his recent fall-out with the selectors.
Last Updated: 19/03/13 10:11am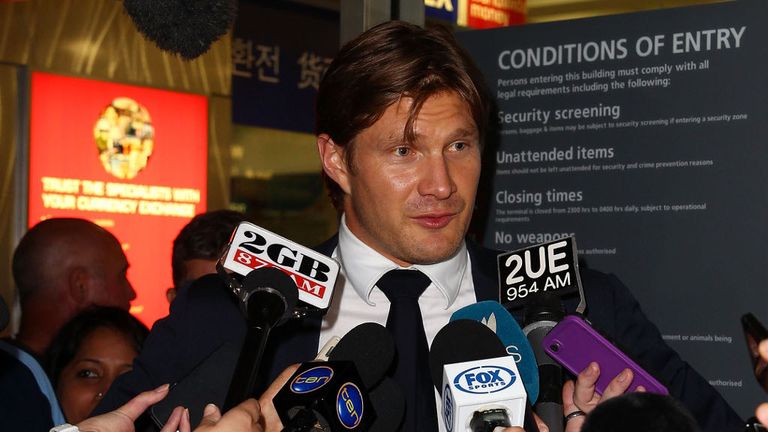 Skipper Michael Clarke is a doubt for the final Test in Delhi because of a back injury and if he is unable to play Watson, as vice-captain, is likely to be placed in charge.
Watson was one of four players axed from the squad for the third Test in Mohali for failing to submit 'homework' set by the management in which the players were tasked with assessing where they and the team could improve.
A furious Watson then flew home to be with his pregnant wife, and whilst in Australia admitted he was considering quitting international cricket.
He has now settled his differences with the selectors, and Clarke admitted that if he is unable to play in Delhi on Friday, Watson will be made captain.
Clarke said: "My back is pretty sore and I'm fortunate to have a few days before the next Test so I'll spend as much time as I can with (team physio Alex Kountouris) to get it right.
"It's the same problem I've had since I was 17 years of age and I've been trying to manage it through my career.
"When my back goes on me like this, it's about plenty of treatment, listening to the expert and trying to get it right for the next Test.
"I will be doing everything I can to give myself the best chance, that's for sure. I haven't missed a Test match due to injury so far in my career and I wouldn't like this to be the first one.
"If I can't perform at my best and I'm going to let the team down, I won't be taking the field.
"It's very positive that Watto is coming back and if I'm unavailable because of my fitness, I would imagine that Watto would be captain, that's for sure."