Graeme Swann hopeful he'll be fit to play full part for England in Ashes summer
Graeme Swann is confident that he will be fit to take part in the Ashes series against Australia later in the summer.
Last Updated: 28/03/13 5:14pm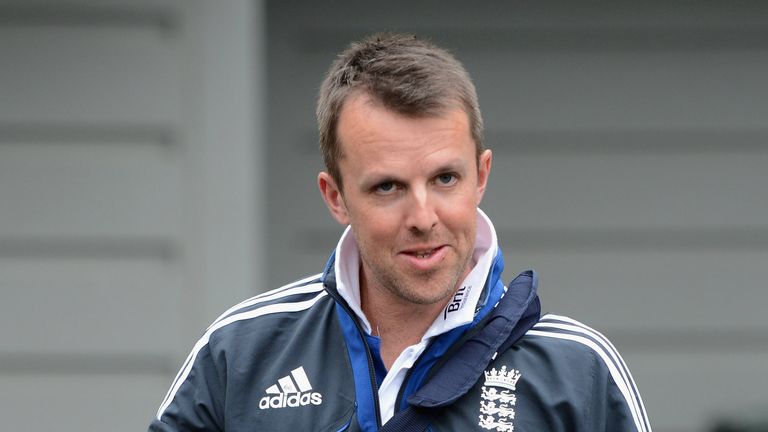 The 34-year-old was forced to miss England's recent Test series in New Zealand in order to travel to America to undergo clean-up surgery on a long-standing elbow complaint.
With such a busy schedule ahead in the next few months - culminating in back-to-back Ashes series - there had been fears that England's premier spinner may not recovered in time to play a full part.
But, speaking at Nottinghamshire's pre-season media day - Swann gave an optimistic bulletin on his fitness and expects to be available for the return series against New Zealand in May.
"The stitches came out a couple of days ago so I've not done a great deal on it, but early signs are very good," he told Sky Sports. "There's no infection in there which everyone was worried about for a while so it's all systems go."
Major goal
Asked to explain the gravity of his elbow problem, a tongue-in-cheek Swann continued: "I can't really remember what they said. Basically I've been playing with a broken elbow, but my incredible pain threshold tolerance saw me through.
"It's very early on. My physical recuperation starts now, the next couple of weeks I'll do all my fitness stuff and get back to bowling, then hopefully by the end of the month I'll be fit and raring to go.
"(The first Test against New Zealand) For me that's the major goal. I've got to convince Andy Flower and Alastair Cook that I'm fit and raring to go and not just pulling the wool over their eyes.
"I've got probably six weeks hard work ahead of me to get back bowling first and foremost and then bowl well enough to get back in the England team.
"It's probably the biggest summer in 20 years to be honest. We've got the Ashes at home followed by the Ashes away - ten Test matches in a row that are going to define a few careers I think."