Vote in our poll to decide the greatest Ashes moment of all time
What is the greatest Ashes moment? Vote for a chance to win free Sky and a signed photo of Beefy!
Last Updated: 07/06/13 11:47am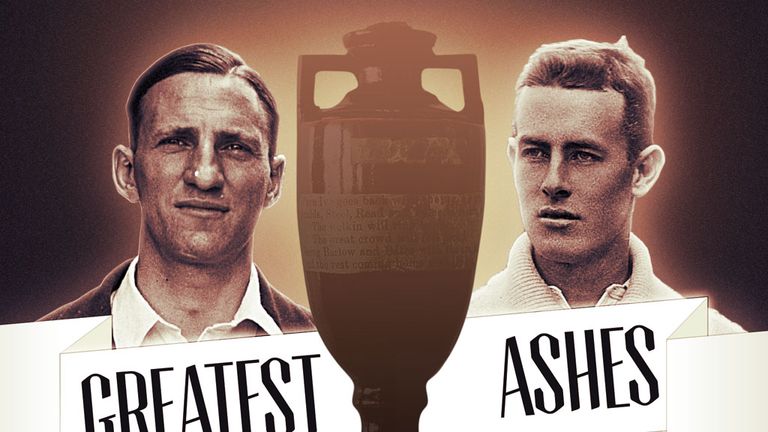 We are running a series of polls throughout June, giving you the chance to assess 40 of the outstanding displays and occasions in clashes between England and Australia since the battle for the urn began.
In week one we're looking at the best moments from 1882-1938 as compiled by our very own Sky Cricket statistician Benedict Bermange, starting with Fred Spofforth's 14-wicket haul for Australia in a Test at the Oval which spawned the Ashes urn.
This was an era in which Don Bradman graced the game, Bodyline caused controversy and Len Hutton set a new record for the highest ever Test score. But those aren't the only contenders...
What's more, everybody that votes will be eligible to enter our prize draw to win a signed photo of Sir Ian Botham and free Sky for a year with Sky Sports.
Here's how the polls will look:
Pot One : We're asking you to pick your favourite moment from 1882-1938 (Fred Spofforth's 14, Victor Trumper's ton, Wilfred Rhodes's return, Don Bradman's 334 - and 254, Bodyline, Hedley Verity's 15, Ponsford and Bradman's 451, Stan Mccabe's 232, Len Hutton's 364).
Pot Two: We're asking you to pick your favourite moment from 1948-1973 (Bradman's final bow, Denis Compton's 145no, Bailey and Watson rearguard, England's 1953 win, Frank Tyson's 7-27, Jim Laker's 19 wickets, Richie Benaud's 6-70, Fred Trueman's 300th, John Snow's 7-40, Bob Massie's 16).
Pot Three: We're asking you to pick your favourite moment from 1974-1994 (Lillee and Thomson, Geoff Boycott's 100th first-class ton, Botham's Headingley heroics, Bob Willis' 8-43, Botham's 5-11, England's 1985 win, Botham at Brisbane, Taylor and Marsh put on 301-0, Shane Warne's 'ball of the century', Warne's Melbourne hat-trick).
Pot Four : We're asking you to pick your favourite moment from 1997-2011 (Nasser Hussain's 207, Dean Headley's six-for, Mark Butcher's 173no, Steve Waugh's Sydney ton, England win at Edgbaston, Adam Gilchrist's 57-ball ton, Anderson and Panesar hang on in Cardiff, England bowl Australia out for 98, Peter Siddle's hat-trick, England win in Australia for first time since 1986/87).
So what are you waiting for? Head over to the voting page and make your choice!