Alastair Cook rues late collapse as England let Champions Trophy slip away
Alastair Cook admits his frustration after England's five-run defeat to India in the final of the Champions Trophy
Last Updated: 24/06/13 6:40am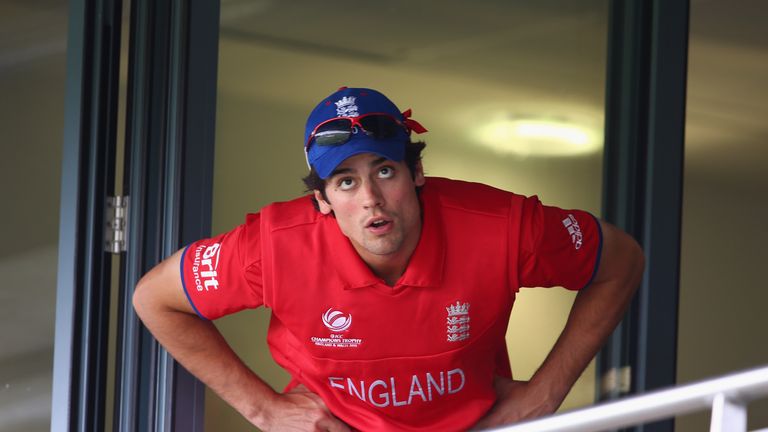 The hosts looked poised to claim their first one-day international global tournament after limiting India to 129-7 from their 20 overs in a rain-affected day and then reaching 110-4 in reply.
But Eoin Morgan and Ravi Bopara fell in successive deliveries after a 64-run partnership and India capitalised to claim victory.
"First, credit must go to the ground staff. We wanted it in our hands, an opportunity to win the trophy and we came up a little bit short today," said Cook.
"I thought we bowled well, 130 you'd take that to chase but it was probably a slightly harder wicket to bat than we probably thought. It is just tough to take at the minute.
"I think the pitch was quite hard to bat on, I think both teams found it (hard). That pitch turned a lot towards the end and it was very surprising that it turned as much as that, but credit to the way the Indian guys bowled.
"We were almost there. It was in our hands."
Praise
Cook did praise his side for their overall display in the competition, adding: "I'm proud of the way the lads played in this tournament.
"We've been under pressure pretty much through the tournament and we've responded well and we just fell a little bit short here today."
The Essex batsman was particularly pleased for his county colleague Bopara, who was the surprise selection in England's 15-man squad for the tournament.
"He's come in and done really well," said Cook of Bopara.
"He's an experienced cricketer and I thought he handled himself really well in this tournament.
He's batted to the situation all the time; he's bowled pretty well and I thought he was just going to get us over the line today. Unfortunately it wasn't meant to be."
Cook felt England were not solely responsible for their own downfall, and was particularly aggrieved by third umpire Bruce Oxenford's decision to give Ian Bell out stumped.
Television replays were far from conclusive, and he said: "I thought it was a poor decision. It loomed pretty clear that he was in."
The finger of fate favoured India at that moment, but their captain Mahendra Singh Dhoni explained afterwards that he had called on them to take charge of their own destiny.
Dhoni explained: "I said 'nobody could look to the left side of the pitch', where the rain was coming from.
"I said 'God is not coming to save us - if you want to win the trophy we have to fight it out'.
"We are the number one-ranked side - let's make it show. Let's make them fight for 130 runs and not look for outside help."