Ashley Giles refuses to blame England players after final collapse against India
Ashley Giles admits England will be "low for a while" after their heartbreaking five-run defeat to India at Edgbaston.
Last Updated: 24/06/13 3:35pm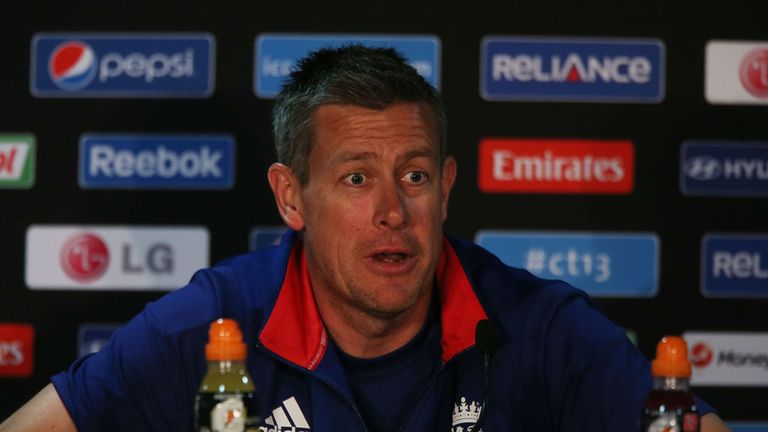 Giles, who must ready a new-look Twenty20 squad for two internationals against New Zealand at The Oval this week could only watch from the balcony he used to call home as England blew a winning position against India at Edgbaston.
A first 50-over world trophy was within England's grasp with only 20 runs required from the last 16 balls, however the wickets of Eoin Morgan and Ravi Bopara in successive balls derailed the home side spectacularly.
Giles, however, does not believe there is a national mental block when it comes to clinching the ODI silverware.
"I don't think it is a mental issue. It does happen," he said of England's latest setback.
"We're going to be low for a while ... I won't sleep that easily ... but at the same time, we've made every effort to prepare and to plan to get it right.
"Sometimes on the day, you just get outplayed and you just don't get it right. I think this was a mixture of that. We have to pick ourselves up and go again."
Fantastic
Bopara, who had taken 3-20 with his medium-pace, and Morgan appeared to have a piece of history in their hands for England.
But theirs were the first two of four wickets to fall for three runs, as it all suddenly went pear-shaped again.
"You could say 'just play the next 16 balls'. But you can't, you've still got to score," said Giles.
"Rightly so, Ravi and 'Morgs' targeted that over. They thought we'd go a long way to winning the game if we targeted that over.
"It was the right thing to do tactically, and when you go for shots you run the risk of getting out."
England appeared to have done so much of the hard work, and Giles is not about to lose faith after one blip - albeit on the biggest stage.
"I thought at halfway to score 130 to win the Champions Trophy in 20 overs, you'd take that," he added.
"But then losing those wickets in a clump up front, I thought Bopara and Morgan played fantastically well to get us into a position where we needed 20 off 16.
"We were starting to think, maybe wrongly, that we're going to get there.
"But this game does have those twists and turns, and it was always going to be difficult with new guys going in and scoring quickly.
"Whether you've got the powerplay or not, to score quickly against those bowlers is hard.
"It is disappointing, but I can't fault the guys in this Champions Trophy."