Boyd Rankin targets Ashes role after England debut
Boyd Rankin hopes to fulfil his Ashes dream after making his England debut in the Twenty20 clash against New Zealand.
Last Updated: 27/06/13 12:01am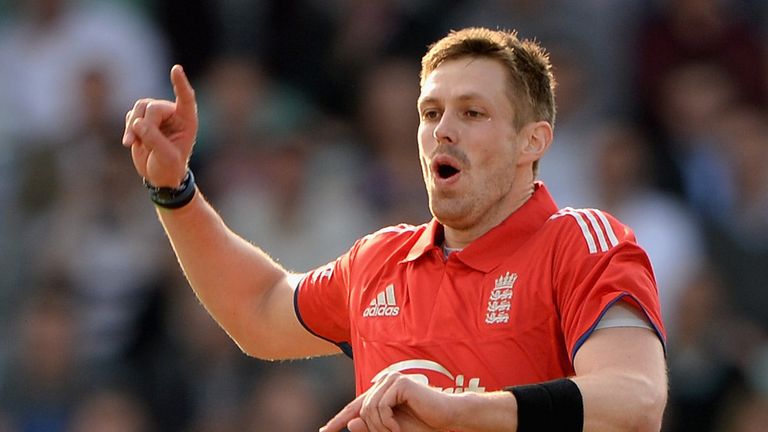 Rankin made 52 limited-overs appearances for Ireland, but he quit his home country's side last summer in a bid to land a Test place with England.
The fast bowler took a step closer to this target earlier this summer after being called up to England's one-day international squad and was handed his first cap in Tuesday night's five-run defeat.
Rankin also appears to be in the selector's thoughts about the longer format as he was included in the squad for the Ashes warm-up match against Essex, starting on Sunday.
The 28-year-old now hopes to follow in the footsteps of fellow Irishman Eoin Morgan by breaking into the Test line-up.
"I made the switch mainly due to the fact that I want to play Test cricket, which I can't do with Ireland. That is my ultimate aim," he said.
"For me, I feel that is my best form of the game.
"I have played quite a lot of T20s and ODIs with Ireland so playing the shorter forms of the game are not new to me.
"I just want to reach that peak.
"I've been playing for Ireland since I was a young boy so it was a big decision to make but I thought it was the right move at that stage in my career.
"I'm pleased I've been involved a little with the ODI and T20 set-ups and now this four-day game coming up."
Determined
Rankin is determined to seize his second chance to impress when he links up with the likes of Test skipper Alastair Cook and James Anderson in Essex.
When asked if he had thought about playing alongside them later this year against the Australians, he said: "Yes, I have but I haven't put too much thought into it.
"I'm just trying to concentrate on day-in, day-out stuff at the moment. Obviously, it would be a great opportunity.
"The ball feels as though it is coming out all right at the moment but I'm just trying to keep my head down and keep working hard.
"Hopefully, the Essex game gives me a chance to impress and see what happens.
"It is nice to be included in that and hopefully I can put on a good show and push the guys who have the spots at the moment."