Shane Watson welcomes opening role against England in Ashes
Shane Watson relishes the chance to open for Australia against England after warming up with 90-runs against Somerset.
Last Updated: 28/06/13 9:59am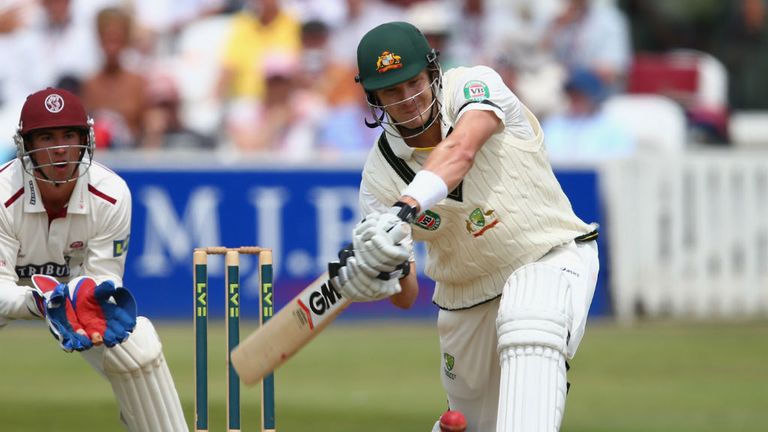 New coach Darren Lehmann confirmed Watson's role at the top of the order for the Ashes series and he repaid this faith by helping Australia reach 266-4 in their tour game against Somerset.
Watson was glad to occupy his preferred position, but knows he needs to continue this form against England's new-ball attack.
"It's nice to get that confirmation and it's a hugely exciting challenge for me," said Watson.
"Darren is very up front about things, from my experience of him, but he also does care when he needs to. He is black and white in a really good way.
"It's nice for me personally to know I have the backing of the coach and the opportunity to open is something I am very excited about.
"I didn't know exactly what my role would be until Darren took over as coach. I had a few chats with Michael Clarke and Mickey Arthur about it, but there was no confirmation.
"Darren has been more definite about where he wants me to bat.
"It doesn't mean any more security because if I am not performing I can't expect to get picked. But I'm very happy about it."
Respect
Watson is full of respect for England's potent pace attack and believes facing them on their home soil will be the 'ultimate challenge'.
"Taking on the quicks with a brand new ball is something I never knew I would enjoy until the last Ashes series here in 2009," he said.
"Ricky Ponting gave me the opportunity through the middle of that series and it's something I did and do love.
"I feel my game and my mentality is now suited to opening the batting.
"The English quicks are as good as there are in the world at the moment and have been for the last few years.
"It is the ultimate challenge to take on the best bowlers with a brand new ball in what sometimes will be bowler-friendly conditions.
"If I can't get up for that, there is no point in playing."
The 32-year-old all-rounder has not bowled in the game, on Lehmann's instruction, and admits that his job as opener could limit his contribution with the ball.
"The way Ricky Ponting used me as a bowler when I was opening the batting was a good blueprint and allowed me to get through without many injuries," he said.
"Certainly opening the batting means I can't bowl as much. But I know I can contribute with the ball and I do love bowling.
"The balance worked previously and I hope it can work again."