Ashes 2013: Australia's Peter Siddle has developed bowling skills
Former Australia seamer Jason Gillespie says Peter Siddle could play a key role in the 2013 Ashes.
Last Updated: 08/07/13 7:34pm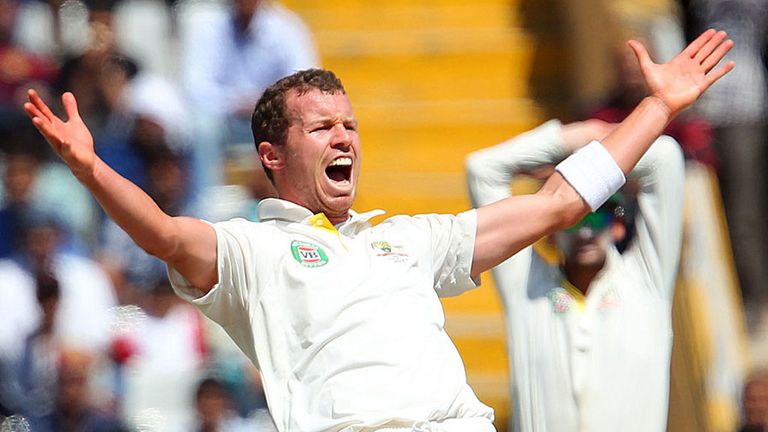 Gillespie, who now serves as Yorkshire's head coach, seized 65 wickets in his 18 Ashes Tests at an average of just over 29 and he believes Siddle's nous with the ball will be crucial over the next few months as Australia look to wrest back the iconic cricketing urn.
However, the Sydney-born star is adamant that Siddle's fellow Antipodean seamers, including left-armer Mitchell Starc and the English-parented James Pattinson, can put the frighteners on England, too.
And he thinks that, coupled with the positive vibes emanating from the tourists' camp since Darren Lehmann replaced Mickey Arthur as head coach, can inspire his country to a first Ashes triumph since 2006/07...
Peter Siddle
JASON SAYS: There is no doubt in my mind Peter Siddle will have an impact in this series as he has come on leaps and bounds in the last 18 months to two years. The work he has done with Australia bowling coach, Craig McDermott, has resulted in him changing his grip slightly - his fingers are now a bit wider apart on the seam which helps him get movement away from the right-handers through the air - while he now has a marginally lower arm path.
He is also bowling a fuller length, something that I think is needed in England, and that will stand him in good stead as well. Siddle, who keeps himself fresh for Test cricket by not playing the other forms of the game, will run in all day, too; he has worked incredibly hard on his fitness which enables him to bowl long spells and while I don't know if he will be the leading wicket-taker in the series, he will be a very consistent performer.
Mitchell Starc
JASON SAYS: Starc is Australia's left-armer and I think he may have been picked over Mitchell Johnson because he is a bit more consistent at bringing the ball back into the right-handers, if not as consistent with his length. Mitchell played with us at Yorkshire last year and what really impressed us was that he was given a rigorous fitness programme to follow by Cricket Australia - something you would usually be given in pre-season - while he was playing a full quota of cricket for us. It was a very challenging time for him and he was knackered at times but he never complained; he got on with his cricket and Australia are now seeing the fruits of that labour. He bowled wonderfully for Yorkshire and we are all delighted to see him doing well for his country.
Australia's other bowlers
JASON SAYS: I think Australia have an edge over England when it comes to fast bowling depth. In addition to Siddle and Starc, they have James Pattinson, who is the absolute future of the Australia attack; he bowls at a good pace, can swing the ball away from the right-handers, can bowl aggressive short stuff and has a bit of attitude about him. Michael Clarke and Darren Lehmann think very highly of Ryan Harris, too, who is a real workhorse and bowls a lot of overs, so he will come into the reckoning, as will Jackson Bird and then there is also James Faulkner, who offers another left-arm option.
All I've heard in the media about our spinner, Nathan Lyon, meanwhile, is negative comments about how he is not good enough and how he will be the weak link in the Australia team, but I certainly don't see it that way. Having spent a bit of time with the lad and watched him at close quarters, I know that he is a very good off-spin bowler and I think he will fulfil a very important role for Australia in the series. Other spinners have been talked about, including Fawad Ahmed and Ashton Agar, but Nathan is the pick of the bunch by quite some way and he will perform admirably in the Ashes.
Darren Lehmann
JASON SAYS: I am not surprised that Darren is now Australia coach because I always thought it was on the cards, but I was perhaps a little bit surprised - and pleased - by Cricket Australia's decisiveness and boldness in making the decision to appoint him because they haven't made a big call like that so quickly in my memory. I think Darren's arrival was the best thing for the team; all the negative noises that have been bubbling under the surface on this Ashes tour, as well as the series in India - everyone knows about homework-gate but the decision to drop Lyon for a Test match was very poor, too - have stopped and I think you will see an Australia side that is expected to lose, go on the field, play with a lot of freedom and have some fun.
England's Yorkshiremen
JASON SAYS: As a county coach one of my roles is to help lads achieve their goals and play for their country so at Yorkshire we are jumping with joy at the prospect of up to three of our players - Joe Root, Jonny Bairstow and Tim Bresnan - playing in the Ashes. It is fantastic for us as a club and for them as players as they get to live a dream, and we hope they do really well.
Ashes prediction
JASON SAYS: Two and a half weeks ago I said England deserved to start as favourites and should win comfortably - but now I'm not so sure. If England play as well as they can they should win, but there is a real good feeling about this Australia camp at the moment and I'm going to say that they can pull off an upset.
ASHES ON SKY SPORTS
Sky Sports Ashes HD will show exclusively live ball-by-ball coverage of the Investec Ashes this summer. Find out more about our coverage and how you can tune in here.
Cricket coverage on Sky Sports is available on TV, PC and on the move via mobile and tablet devices, thanks to Sky Go.
Sky Sports will also launch an enhanced Ashes experience within the Sky Sports for iPad and via the Ashes Event Centre on skysports.com, providing users with even more viewing options, data and insight throughout the series.
Sky Sports News HD will provide daily reports, views and analysis throughout the Ashes while skysports.com, the UK's leading commercial sports website, will offer visitors all the latest news, video and match coverage.