Trent Bridge build-up
Everything you need to know ahead of the Ashes opener
Last Updated: 10/07/13 4:44am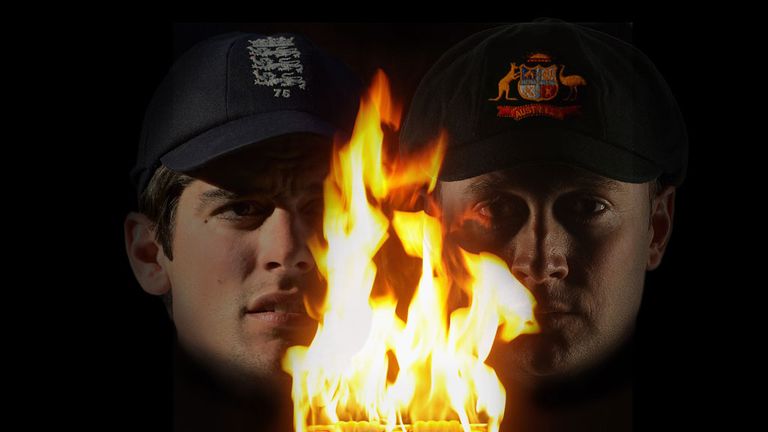 Trent Bridge represents the first of 10 Tests between the old rivals in the next six months with England making the return trip later this year.
Australia's preparations have not exactly gone to plan with the decision to sack Mickey Arthur and bring in Darren Lehmann as coach coming 16 days before the start of the series.
Lehmann is tasked with bringing some order to a squad that has been troubled by disciplinary issues in recent times; four players including Shane Watson were banned for a Test during the tour of India for failing to complete a 'homework' assignment, while David Warner was suspended for the pre-Ashes warm-up matches after throwing a punch at England batsman Joe Root in a Birmingham pub during the Champions Trophy.
England start as prohibitive favourites with the bookmakers after winning in India last winter, comfortably seeing off New Zealand earlier this summer and reaching the final of the Champions Trophy.
The return to fitness of Kevin Pietersen after a knee injury is a further boost and prompted a reshuffle in the batting order with Joe Root moving up to open with skipper Alastair Cook and Nick Compton dropping out.
Ahead of the opening day on Wednesday, we bring you all the latest news, views, video and opinion.
Cook backing Root
Alastair Cook has no fears about rookie batting partner Joe Root being able to handle the pressure-cooker atmosphere of a first Ashes Test. Root has been promoted up the order to join Cook in the top two and the England skipper is confident the tyro will get amongst the runs. In his final media appearance before the first Test, Cook also spoke of his pride at captaining England in an Ashes series for the first time, while admitting that "excitement" and "nerves" will be the prominenet feelings amongst the squad over the next few hours, ahead of Wednesday's opening delivery.
Relaxed mood
Michael Clarke was in relaxed and confident mood as he faced the media in the traditional eve-of Test press conference. The Australia captain re-iterated that he is "100 per cent fit" after recent back problems and vowed to lead by example with the bat. He also expects swing bowling to play a big part at Trent Bridge on a dry wicket and with five days of hot weather forecast. Overall, it was an impressive performance from the Australia skipper ahead of the biggest challenge of his career to date.
Fully prepared
Graeme Swann is confident England are ready for whatever Australia throw at them this summer. The Nottinghamshire spin bowler will be playing on his home ground in the series opener and refuted suggestions that Australia's troubled build-up has resulted in complacency in the England squad. Swann said: "We climbed up to No 1 in the world which we were pleased about, but we didn't stay there very long. We are continually aiming to improve and we've got to get back up there and until we are, we certainly won't see ourselves as a dominant force."
New chapter
Vice-captain Brad Haddin thinks Australia's inexperienced squad is ready to defy low expectations and write a new chapter in Ashes history after back-to-back defeats. Haddin said: "It hurts and that won't go away, the two losses in 2009 and the one at home - it is always going to hurt. We'd love to make amends for that in this series. Our progress over the last three weeks has been good. Now we're excited about day one of the Test."
Pressure Cooker
Alastair Cook's predecessor as England captain Andrew Strauss explains the challenges of leading the country in an Ashes series. Strauss, who skippered England to series wins over Australia in 2009 and 2010/11 before handing over the reigns at the end of last summer, believes Cook will be tested like never before but is also sure the Essex left-hander is "incredibly well suited to the job".
Warning signs
In a pre-Ashes edition of Cricket Writers on TV, Australian journalist Malcolm Conn said it would be a "risk worth taking" to select David Warner at Trent Bridge. Warner played no part in either of Australia's fixtures against Somerset and Worcestershire because of his suspension for punching Root. Warner will not be opening, Australia coach Darren Lehmann has already confirmed Shane Watson will partner Chris Rogers at the top of the order but there could be a slot for the New South Wales left-hander in the middle order, most likely at No.6.
Venue guide
Known as a swing-venue friendly, Trent Bridge is also deemed to be one of the truest batting wickets in world cricket. The blend makes for a fascinating contest between bat and ball and the only two draws in the last decade were both rain-affected. The decision of whether to bat or bowl first can be a difficult one at Trent Bridge, which is statistically the toughest venue in England for teams batting first in the last decade. Trent Bridge staged its first Ashes Test in 1899 and since then England have won only four of 20 meetings with Australia at the venue. James Anderson has a fantastic record in Nottingham, where he has taken 39 wickets in six matches at an average of just 17.74.
Last time out
Trent Bridge was overlooked for the 2009 series, meaning it is eight years since the last Ashes Test at the ground. Back in 2005, England won by three wickets to open a 2-1 lead in the series with one match remaining. Andrew Flintoff's 102 led England to 477 after they chose to bat and Simon Jones - in what turned out to be his final Test - claimed 5-44 as Australia were all out for 218 in reply. Jones limped out of the attack but England enforced the follow-on anyway and worked their way through Australia for 387 second time around - including sub fielder Gary Pratt's run out of Ricky Ponting - to leave a target of 129. England got the job done; Brett Lee and Shane Warne bowled in tandem for much of the run chase, sharing the seven wickets to fall before eighth-wicket pair Ashley Giles and Matthew Hoggard steered England home late on day four.
Toss
Three times in the last five Tests at Trent Bridge, touring captains have won the toss and chosen to bowl first - but only India's Rahul Dravid in 2007 was vindicated with a victory. England have won four in a row at the ground since that defeat to India, most recently a nine-wicket success over West Indies last year when Darren Sammy decided to bat after winning the toss. Cook has won the toss four times as England captain but only opted to field first once, on that occasion New Zealand piled up 443 in their first innings in Auckland. Clarke has called correctly 14 times in Tests, choosing to bowl first on three occasions; wins over India and Sri Lanka in Perth and Sydney respectively and defeat to New Zealand in Hobart in a low-scoring match.
Weather forecast
Bright sunshine is expected for the first three days, with a high point of 26 degrees Celsius on Friday. The temperature is predicted to rise further into the weekend but there is a risk of showers on Saturday and Sunday.