Darren Lehmann orders Australia batsmen to shape up for Lord's
Australia coach Darren Lehmann has ordered his batsman to shape up in time for the Lord's Test.
Last Updated: 18/07/13 10:42am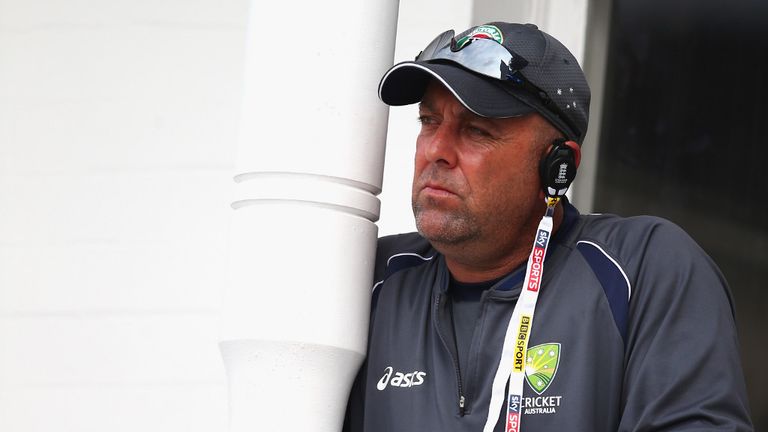 England won the first Test at Trent Bridge by just 14 runs, but the Australians got close because their lower order bailed them out twice.
Debutant No 11 Ashton Agar rescued them from the depths of 117-9 with a remarkable 98, and in the second innings Brad Haddin and a wagging tail got the tourists close to what would have been a stunning victory.
Lehmann was proud of his lower order's efforts, but he did not mince his words on his top six.
"Our tail has done really well over a period of time now, but it's time for the batters to make sure they're making the runs," he said. "I think we only batted for 64 overs in the first innings and 110 in the second.
"We've got to be reversing that about, batting for 120 overs plus in the first innings of a game and making our runs there."
Lehmann admits Ed Cowan is in particular under the microscope, having been dismissed by Steven Finn for a first-ball duck in the first innings, and then cheaply in the second to part-time spinner Joe Root.
Tough game
"He's had a tough game," said Lehmann. "Like everyone, you've got to make runs and perform.
"We've told Ed how we want him to play and how we want him to bat...we picked him to do a role. He'll be disappointed with the shots. So are we.
"We're trying to learn and get better. I'm sure he'll get better at that as well."
Lehmann insists that the narrow margin of defeat is a true reflection of the relative merits of the two teams.
He said: "I think they're quite close - a lot closer than people give them credit for, both sides. So the key for us is to make sure we're playing better.
"I still don't think we performed to the level we want to perform at. If we do that then we'll be good enough. We've certainly got to bat better as a top order. We're going to bowl very well, and we know we can control their batters. It's just a case of making more runs.
"I just thought we missed a chance probably in the first innings with our top order. I know conditions were tough, but we had to get through that. They're the areas we can improve on.
"We're going to keep punching them ... we'll keep coming back at them all the time," he said with perhaps an unfortunate turn of phrase given the bar incident which saw David Warner punch Root in the face.
"We've shown enough, that this is going to be a really close series."
Lehmann says there are no issue with the DRS, or with Stuart Broad who refused to walk when he edged a catch to slip in the second innings.
The coach is though demanding that Michael Clarke and the team make better use of the system.
"It's dealt with as far as I'm concerned," he said of the Broad incident. "We just move on and get on with it.
"The DRS has improved the decision-making process. Both sides have the same issues. We've got to get better at using it, basically."
Lehmann is not ruling out picking two spinners at Lord's, which would mean a call-up for Nathan Lyon.
"You just pick the best way to get 20 wickets. That's the key," said Lehmann. "We know we've got to get 20 to win the Test match. We did it here, and just missed out.
"We've got to back it up again and do it at Lord's. If we think two spinners is the right way to go, we'll do that."