Ashes: Tim Bresnan reflects on hard slog for bowlers after day one at Old Trafford
Tim Bresnan admitted conditions and an upturn in Australia's batting made it a tough day for England at Old Trafford.
Last Updated: 05/08/13 5:21pm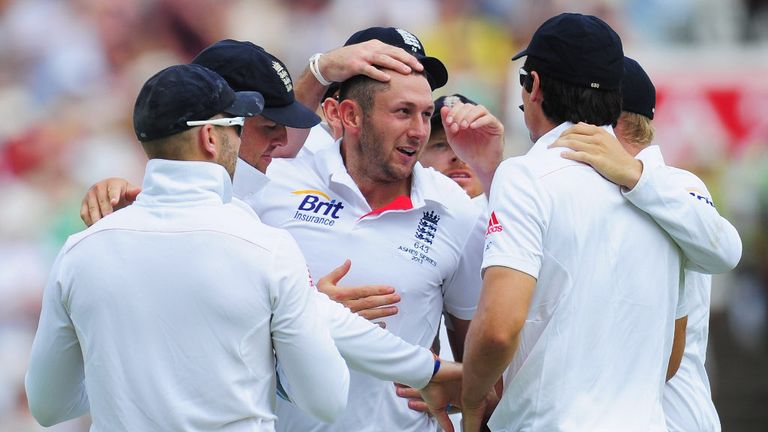 Captain Michael Clarke led from the front with an unbeaten century as the tourists capitalised on winning the toss to post 303-3 at Old Trafford and raise hopes of a fightback from 2-0 down in the series.
Bresnan was one of only two England bowlers to take a wicket, having Shane Watson caught at slip, as fine weather and difficulty finding reverse swing contributed to a long day in the field for Alastair Cook's side.
Speaking to Sky Sports after the day's play, Bresnan said: "It's always tough when the wicket plays like that, and ultimately the Aussies played really well.
Conditions
"As soon as the ball got a bit old it stopped swinging around, and then the sun came out. It's playing pretty well, that wicket.
"There's not much reverse out there, to be honest. We tried to keep the ball fresh and new, even though the outfield's quite lush. Reverse is difficult."
The solution, according to Bresnan, is for England's bowlers to maintain their discipline and hope for better luck on Friday morning.
He said: "We've got to keep plugging away and putting the ball in the right areas. We beat the bat quite a lot, but ultimately they played pretty well.
"Tomorrow morning we could go past outside edge a couple of times and they might nick it - there are fine margins in this game."
He added: "We were expecting a fight. I think every time you play against Australia you expect them to fight hard.
"Their backs were against the wall, so why wouldn't they push even harder back? We were expecting something like this. It's up to us now to counter-act that."