Paul Collingwood pays glowing tribute to Durham director of cricket Geoff Cook
Paul Collingwood paid tribute to Durham director of cricket Geoff Cook after lifting the County Championship trophy.
Last Updated: 20/09/13 7:50am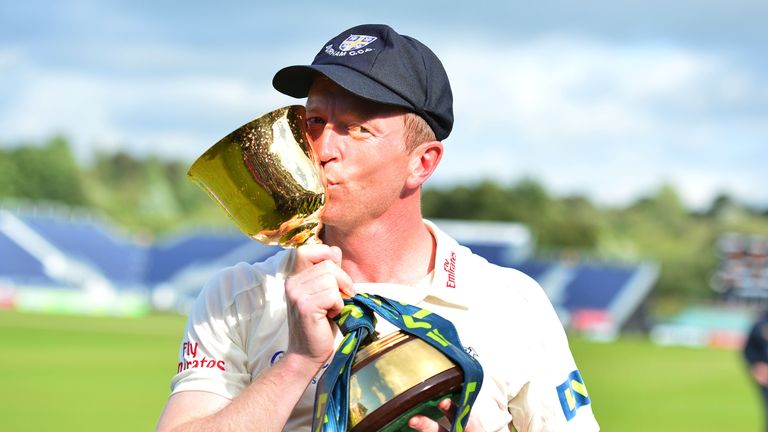 Cook was instrumental in elevating the county to first-class status 21 years ago and has now overseen three title triumphs since 2008.
But he came perilously close to losing his life in June when he suffered a heart attack, and club captain Collingwood is grateful that Cook survived to see more silverware being lifted.
"It's a very special moment, not just in my career but for a lot of youngsters in that dressing room. Geoff Cook must be a very proud man," said the former England all-rounder.
"He's been around Durham right from the start, and thankfully he's still around after his blip during the summer.
"Obviously in June he had a major heart attack and he had to pull through that. It looked as though he wasn't going to pull through but he's a big fighter like many of the guys in the dressing room.
"He's back with us thankfully and he's enjoying this moment. For him to have overseen three County Championship wins in the short history of Durham is a magnificent achievement and a lot of that is down to Geoff Cook."
Excellent
Durham's success has been made even sweeter given the amount of home-grown talent that has cemented a regular place in the first team.
Local products Mark Stoneman and Scott Borthwick in particular have enjoyed excellent seasons with the bat to offset the loss of Australian veteran Michael Di Venuto at the end of last season.
"In many ways it's been forced upon us because of the financial situation at the club, but it's been a good thing because the guys have wanted to fight," Collingwood added.
"When you lose the likes of Michael Di Venuto last year, a guy who scores 1,000 or 1,500 runs a season, you've got to replace those runs.
"Mark Stoneman at the top of the order and Scotty Borthwick coming in at three have both had fantastic years and they've managed to fill his shoes.
"But you can go right the way through this team and say someone has put in a big, big performance at a crucial point in the season. There's 17 guys at one point who have all put their hand up at the right time this season."