Kevin Pietersen wins substantial libel pay-out from Specsavers
England batsman Kevin Pietersen has accepted substantial but undisclosed libel damages from Specsavers.
Last Updated: 08/10/13 2:02pm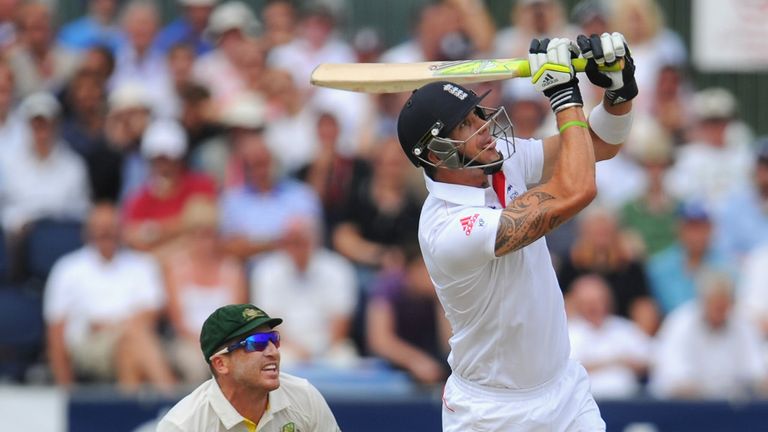 The batsman took action against the optician services group over the "serious and defamatory allegation" and the case was heard at the High Court in London.
During England's 3-0 Ashes win over Australia in the summer, Australia's Channel 9 news claimed the International Cricket Council were to investigate claims that players were putting tape on their bats in an attempt to trick the Hot Spot technology used to assess whether batsmen had hit the ball.
And the Channel 9 report focused on Pietersen's third Test dismissal, when the England man was given out caught behind although Hot Spot did not show any edge.
The bat tampering claims were widely ridiculed and the England and Wales Cricket board has subsequently received an apology from Channel 9.
Specsavers apologise
However, Pietersen's solicitor Louise Prince told Mr Justice Tugendhat that a "Should've gone to Specsavers" advert was published on the company's Twitter account and Facebook page in August.
The advert, which also appeared in newspapers and magazines, said: "'Bat tampering' in the #Ashes? Apparently Hot Spot should've gone to Specsavers", and featured a picture of Pietersen.
Ms Prince said the bat tampering allegation was untrue and without any foundation whatsoever.
And Specsavers Optical Group Ltd accepted that Pietersen did not behave in the manner suggested, apologised and said they had already removed the advert from circulation.
The group have also agreed to pay the 33-year-old substantial damages and his legal costs.
A Specsavers statement said: "During the 2013 Ashes series we published a 'Should've Gone to Specsavers' advert which suggested that Kevin Pietersen may have tampered with his bat in an attempt to prevent Hot Spot technology working.
"We did not intend to imply this suggestion.
"We accept that this allegation is untrue and that Kevin Pietersen did not tamper with his bat. We apologise unreservedly for any distress and embarrassment our advert has caused to Kevin Pietersen. We have removed the advert from circulation."