Kevin Pietersen and Jack Wilshere in Twitter row over England eligibility
Cricket star Kevin Pietersen has questioned Jack Wilshere's views on qualifying to represent England.
Last Updated: 10/10/13 12:43pm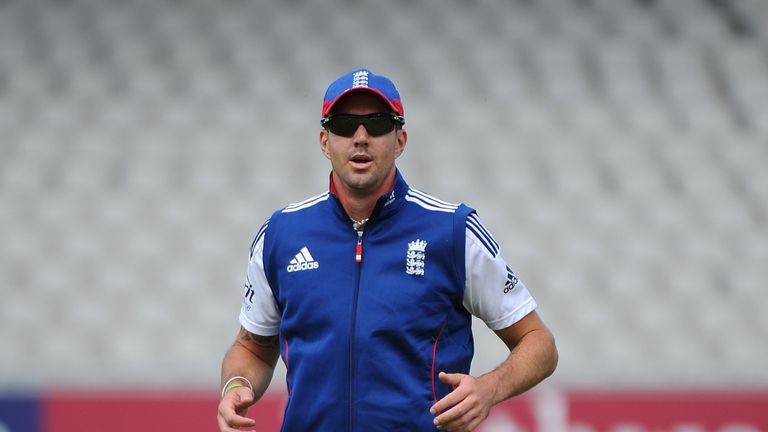 Pietersen, 33, has played a key role in England's rise as a cricketing force in the past decade despite being born in South Africa - and he took umbrage at Wilshere's assertion that only those born in England should be eligible to represent the country.
Pietersen tweeted the England midfielder: "@JackWilshere -interested to know how you define foreigner...? Would that include me, Strauss, Trott, Prior, Justin Rose, Froome, Mo Farah?'"
Wilshere responded with: "@KP24 With all due respect Mr Pietersen the question was about Football! Cricket, cycling, Athletics is not my field!"
The exchange did not end there, with Pietersen swiftly retorting: "@JackWilshere same difference.. It's about representing your country! IN ANY SPORT!"
Wilshere later tried to diffuse the row by saying on Twitter: "To be clear, never said 'born in England' - I said English people should play for England.
"Great respect for people like KP (Kevin Pietersen), Mo Farah and Wilf Zaha - they make the country proud.
"My view on football - going to a new country when ur an adult, & because u can get a passport u play 4 that national team - I disagree.
"Just saying my opinion, everyone is entitled to theirs. Can't wait for Friday
night..."
Wilshere's original statement came in the wake of Adnan Januzaj's superb individual performance for Manchester United at Sunderland sparking a hot debate over which country he would choose to represent.
But on Wednesday Wilshere clarified his comments about foreign-born players representing England - and insisted he was not referring to Manchester United teenager Januzaj.
Eligible
Januzaj could eventually be eligible for England through residency, but the Arsenal midfielder appeared to raise concerns about the 18-year-old being called into the squad in the future.
"The only people who should play for England are English people," he said at an England press conference on Tuesday ahead of their World Cup qualifiers against Montenegro and Poland.
"If you live in England for five years it doesn't make you English. If I went to Spain and lived there for five years I am not going to play for Spain."
Wilshere suggested that some of his comments were taken out of context.
He wrote on Twitter: "Just to clarify a few things....again!
"Seems to be a trend in this country, poor journalism in my eyes! I wasn't referring to Janujaz (sic)...
"The question was should foreign players be allowed to play for England, and in my opinion I don't think they should! He is a great player...
"I wish he was English! I'm sure most of you agree with me even if some journalist are trying to make me look bad....again!"