Graeme Smith confident South Africa can extend unbeaten away record
South Africa captain Graeme Smith is determined to extend his side's unbeaten away record when they take on Pakistan.
Last Updated: 14/10/13 11:54am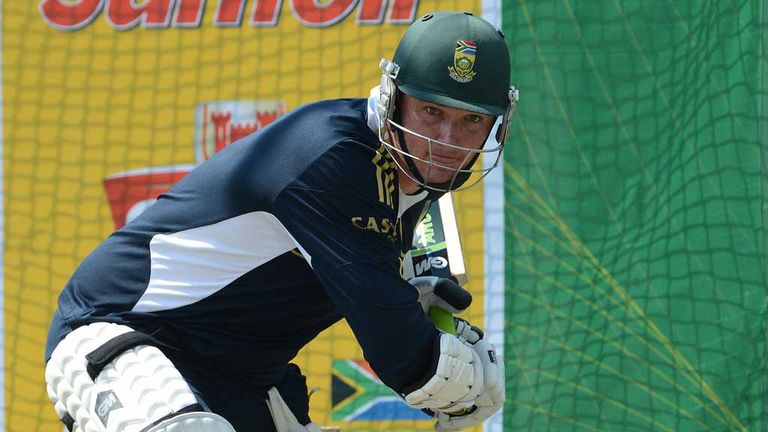 The first of two Tests in the United Arab Emirates starts in Abu Dhabi on Monday, and the Proteas arrive having not lost a Test series on the road since being edged by Sri Lanka in 2006.
The wicket at the Sheikh Zayed Stadium is expected to be slow and well-suited to Pakistan's three-man spin attack, but Smith believes his team can adapt to any given conditions.
"I think every time you do overcome winning away from home, there's a certain strength that you get as a team and as an individual," Smith said. "It's hard to put your finger on what that actually is."
AB de Villiers surpassed Smith's South African-record 277 on their last visit to Abu Dhabi three years ago, and Smith added: "To me, the pitch looks pretty similar in many ways.
"The wickets here certainly on the first morning seem to have something little bit in them, there's a little bit of swing and seam movement and then they seem to get really good."
Dangerman
Star Pakistan spinner Saeed Ajmal took only three wickets in two Tests in their last "home" series against South Africa, and Smith knows that keeping Ajmal at bay is crucial.
"We've had a good success against Ajmal and that's nice to know," Smith said. "Last time we played Ajmal really well and I think he ended up missing a few games on the tour."
"He's a key performer for Pakistan and he's a world class performer. We've had some good chats about him and all the Pakistani bowlers and how we would like to play them."
The series is the first on the road for the Proteas this year, and Smith added: "You've got to be realistic that we haven't played for the last six months and it might take us time to get up to the standards that we were last season when we've been playing lot of cricket.
"It might take us little bit of time to get to that, but we've certainly covered all our bases in our preparation.
"Our goal is to put Pakistan under pressure, and I think that's something we've been able to do. We've been able to handle pressure very well and exert lots of pressure on the oppositions so that's something we would like to do over the five days."