Graeme Swann admits sense of disbelief at England's recent success against Australia
Graeme Swann admits it is hard to comprehend the prospect of England winning a fourth straight Ashes series.
Last Updated: 15/10/13 10:40am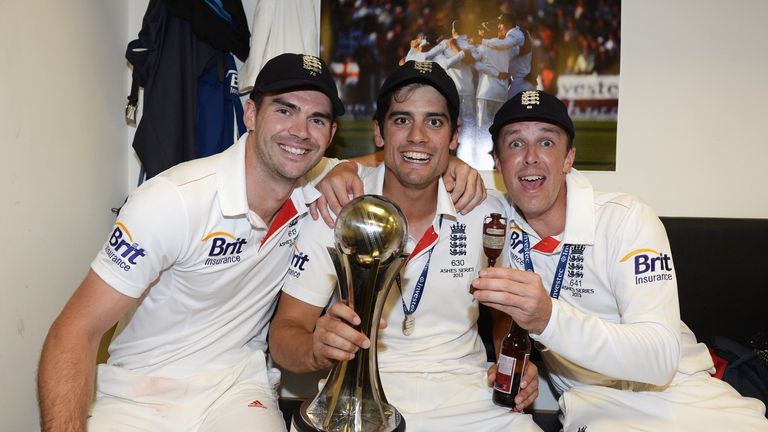 The off-spinner grew up during the period of Australian dominance, which started in 1989 and did not end until Michael Vaughan's side reclaimed the famous urn in the remarkable 2005 series.
England secured their third straight win with a relatively comfortable 3-0 victory during the summer, and Swann is confident they can make it four in a row in the return series, starting next month.
Speaking in his role as a member of the committee of the Bobby Robson Foundation, which hopes to raise £1m from an ongoing charity auction, Swann said: "Sometimes I have to pinch myself that I'm playing in an era like this.
"Australia seemed almost invincible when I was growing up, and you knew it was going to be 3-0 or 4-1 when the Ashes came round.
"We had some good players in those days but as a young cricketer you never really aspired to win it. To be playing in an era in which we have won it three times in a row, I sometimes find hard to believe."
But Swann insisted the prospect of a potential record-breaking achievement will not prove a burden.
"The important thing is to go out and win things and if that rewrites the record books then that's great," added Swann.
"As a team we don't play thinking about records and history. Of course you want to leave a legacy and the more you win the better that legacy will become.
"If we can win this series then we will be the red-hot favourites when the Ashes come home again."
Swann also maintained that he was comfortable with England being regarded as favourites, but insisted the players were not becoming complacent.
"Maybe there is some complacency (among fans) but if we're expected to beat them then that's a very good sign," he said.
"We are going out there with the score at 0-0 and we are certainly not taking anything for granted but if we are going as favourites then it is much better than going there as the underdogs.
"I would rather be in a team that is expected to win than any other."