Sir Ian Botham has completed his latest charity venture, Beefy's Walk 2013
Ian Botham has reached the end of Beefy's Walk 2013, his latest charity walk in Sri Lanka.
Last Updated: 24/12/13 1:13pm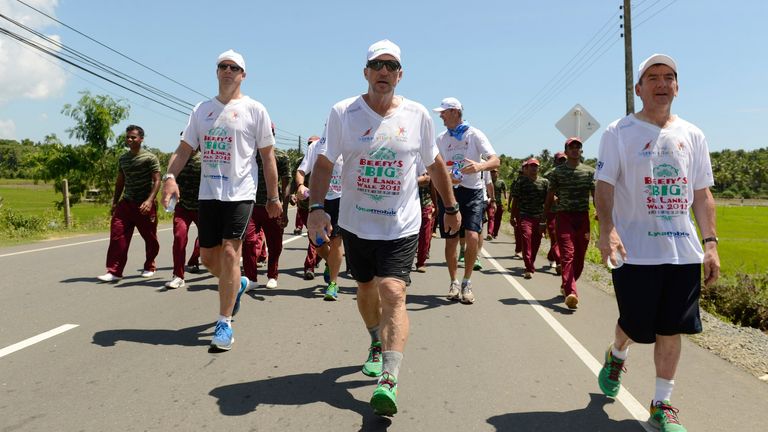 Botham's latest quest has taken place in Sri Lanka, where eight stamina-sapping days have seen him and a huge support team walk more than 125 miles in temperatures topping 40 degrees celsius.
The final day saw the team walk from Galle to Seenigama along the south-west coast of the Indian ocean island, raising funds for the Laureus Sport for Good Foundation - the current tally stands at over £130,000.
He was joined by Sri Lankan cricket legend Muttiah Muralitharan for the final leg into Seenigama, where the Foundation of Goodness Seenigama Sports for Life project has been created in a village that was all but wiped out by the 2004 tsunami.
Botham has a lengthy history of walking for charity, starting with the most famous, an epic 1985 effort from Land's End to John O'Groats that saw thousands of people join him along the 900-mile route.
Leukaemia & Lymphoma Research, for whom he has undertaken a number of the walks, say he has walked 10,000 miles and raised more than £13m since that first walk, which was originally inspired by a visit to Taunton's Musgrove Hospital for treatment on an injured toe where he met children being treated for leukaemia.
After crossing the finish line, Botham said: "I feel really good and I am really pleased with the way it has gone.
"It was great to have so many people come and join us, walking various parts of the walk. Allan Border and Steve Waugh have come out, Morne (du Plessis) has come out from the Academy, so it's been good. It's given everyone a lift and the whole walk just snowballed.
"What a way to finish it here in Seenigama, just sensational."