Ashes 2013-14: Kevin Pietersen - no regrets heading into 100th Test
Kevin Pietersen has laughed off accusations that he is "arrogant" as he prepares for his "surreal" 100th Test.
Last Updated: 19/11/13 4:06pm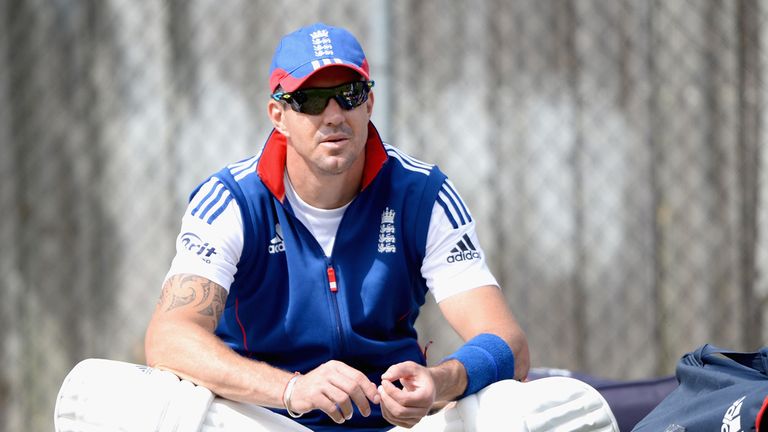 Pietersen will play in his 100th Test at the Gabba on Thursday, when Alastair Cook's tourists begin their bid for a fourth consecutive Ashes series triumph.
He will become just the tenth Englishman to achieve the milestone, but the breakdown of his relationship with former skipper Andrew Strauss and coach Andy Flower last year meant it nearly did not happen.
He was reintegrated in last winter's tour of India, and has been a fixture since.
A Brisbane newspaper put a picture of Pietersen on its front page on Monday and said he was so arrogant even his own team-mates do not like him. But the batsman dismissed the incident, and the accusation.
Pietersen, facing the assembled press pack for the first time in 15 months on Tuesday, insisted he has learned from his mistakes.
"I've got to be confident in my ability. As a South African coming to England, I had to really fight some tough battles and had to be single-minded in achieving what I've had to achieve - I can't help people thinking I'm arrogant," he said.
"I think a lot of great sportsmen out there have that little bit of something to them that makes them try and be the best and want to be the best.
"I call it confidence. You guys (media) call it arrogance, it makes for better headlines."
"I think as a person, you grow when you make mistakes. We've all made mistakes in all our lives.
"That's when you learn the most, and if I hadn't learned I wouldn't be sitting (here) on the eve of my 100th Test match.
"The good has been good; the bad has been bad. There has been some really good stuff, and I've really enjoyed the journey. Where my career is at now, I don't think I can be any happier. I'm incredibly happy."
Pietersen admits he finds it incredible that he has got to 100 Tests, joining elite company across all sports.
Sachin Tendulkar's retirement after his 200th Test three days ago, and centuries reached by England footballer Frank Lampard and New Zealand rugby player Dan Carter spring to his mind.
"It's quite surreal actually," he said. "Talking about 100th Test matches is a weird feeling for me personally.
"If you look at what happened last week with Sachin, saw in the rugby with Dan Carter and saw Lampard in the football - these are the kind of guys I look up to and wish I was.
"As a young kid, you grow up and see all these superstars. When it's you yourself...I'll probably look back on it when I've finished my career and see it as something quite special.
"But at the moment I just see it as the start of an important Ashes series. It's one we've come to win."
Pietersen dismissed suggestions that this may be his last series and says he wants to reach 10,000 Test runs (he currently has 7,887).
"Fortunately with this side we've won everything. We've won a T20 World Cup, we've won Ashes home and away, we've won in India," he said.
"The World Cup 2015 is something I'd love to have a go at with England. I've (also) got home and away hundreds against each country apart from South Africa.
"Our tour to South Africa is 2015-16. If the old man can survive until then, I'd like to get there."
The opening Ashes Test gets under way on Sky Sports 2 HD from 11pm on Wednesday