Ashes 2013-14: Marcus Trescothick feels Michael Clarke went too far in sledging Jimmy Anderson
Marcus Trescothick feels Australia went slightly over the line with their behaviour on the final day in Brisbane.
Last Updated: 24/11/13 11:42pm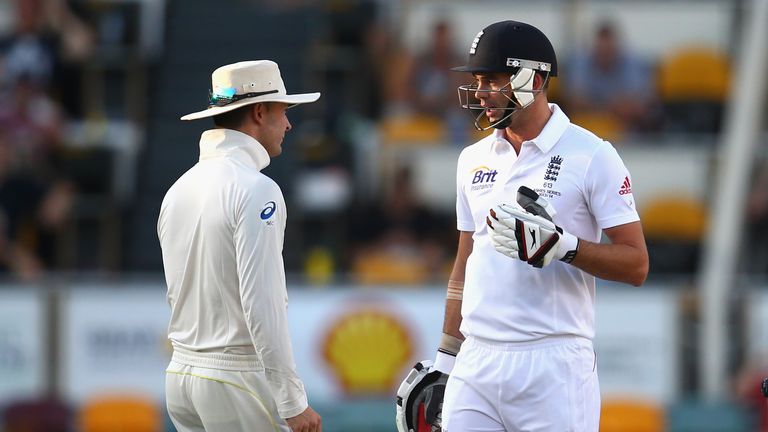 Captain Michael Clarke ended up in the headlines for his comments towards England seamer Jimmy Anderson, who he told to 'get ready for a broken arm' as he faced the livewire Mitchell Johnson late in the tourists' second innings.
Clarke refused to apologise at a press conference afterwards, when he was told the exchange was caught on stump microphones and broadcast during the live coverage from the Gabba.
And Trescothick, who has experience of being sledged by Clarke, feels an apology might well be in order on this occasion despite feeling that on-field chat is part of the game.
Trescothick told Sky Sports News: "I think sledging is fair game. They get involved and they love to have a bit of a fight, and certain things are said. There are times when they cross the line and say things they regret.
"I think maybe most of us as professional sportsmen have done it at some point in our career, but this is a bit borderline for me
"I'm not comfortable when you start talking about breaking people's arms and hurting people. Yes, there will be words said and language that can't be repeated but there are fine lines you cross and this is crossing a bit too much for me.
"We don't know what has been said in previous games and during the course of this game. He may have said something personal, so there is that element of something we aren't sure of."
Former Australia bowler Gillespie was forthright in his views on the matter, wondering whether the exchange with Clarke should even have been broadcast and intimating Anderson could just be one of their 'players you love to hate'.
Gillespie said: "Maybe it's just that the Aussie players really do not like Jimmy Anderson. He must have said something to wind them up.
"Does the stump mic need to be on that loud when they know two players are coming in for an exchange of words? Does the public need to hear that? I'm not so sure.
"The comment was harsh but it depends on the individual how you react. I didn't get sledged much because I was a bowler."
Trescothick added: "Sometimes it's great fun and there is great banter. You chat about it afterwards and share a beer. But the stumps mics are always going to be turned up and people want to see it.
"The controversy it's going to create will be brilliant and it creates the publicity about what's going to happen from here.
"Michael said something to me at Bristol in 2005 which was quite rude but after the game he came to me and apologised for what he had said so it's quite surprising he didn't in the press conference."
Asked about England's lack of performance, he added: "I'm not sure what happened really. There was a lot of rain in their build-up and they looked a bit undercooked.
"But they just got bombarded by pace and that's going to take a bit of turning around between now and the next Test in Adelaide."
Gillespie said: "They batted well first up in Hobart but then there was rain and little chance of more cricket there. Then they went to Sydney with a slow pitch and a medium pace attack so they haven't really faced anyone above 80mph.
"Then they suddenly get to Brisbane on a fast deck and Mitchell Johnson's coming in at 90+.
"The thing I liked is that the Australia selectors picked Mitch in a balanced attack. You've got Siddle and Harris who are attacking bowlers pitching the ball up in general and controlling the run-rate. It doesn't matter then if Mitchell goes for four an over."