Ashes paper talk: What the Australian papers are saying
A look at the top stories in the Australian papers as fallout from Jonathan Trott's exit continues.
Last Updated: 26/11/13 11:38pm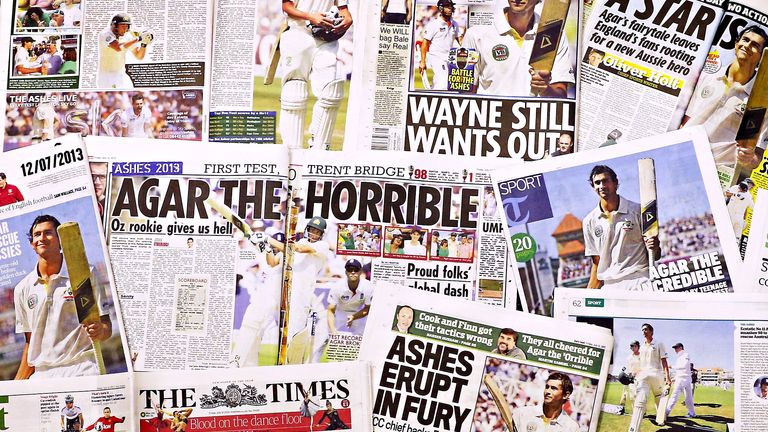 DAILY TELEGRAPH
JIMMY ANDERSON threatened to assault George Bailey, prompting Michael Clarke to intervene as the first Test drew to a tense conclusion.
ENGLAND were so rattled by Australia's short-ball assault they quizzed match officials about dangerous bowling rules.
FORMER TEST CAPTAIN Kim Hughes launches a scathing on attack on David Warner for his comments about Jonathan Trott.
JIMMY ANDERSON "almost started crying" when he upset Michael Clarke by whacking him with a pad in Adelaide seven years ago.
RYAN HARRIS is a certain starter in the Adelaide Test - if fit - as Australia prepares to go for the jugular against wounded England.
SYDNEY MORNING HERALD
DAVID WARNER has described James Anderson as "arrogant" as it emerged the England pace spearhead's treatment of Test debutant George Bailey sparked the fiery exchange with Michael Clarke.
CHANNEL NINE has apologised to Michael Clarke after the Australian captain was fined by the International Cricket Council for a verbal tirade at England tailender James Anderson.
MITCHELL JOHNSON was bowling as fast as 155km/h at the Gabba, believes veteran Australian wicketkeeper Brad Haddin.
AUSTRALIAN coach Darren Lehmann has warned that one Ashes Test win does not make a summer, and that his team, Mitchell Johnson included, will confront a much bigger challenge in Adelaide.
ENGLAND paceman Jimmy Anderson can dish out sledging, so it's only fair he has to cop it, Australian quick Peter Siddle says.
FORMER ENGLAND cricketer Steve Harmison reveals how he spent 10 years hiding the pain and suffering of being depressed on overseas tours.
THE AUSTRALIAN
SHAKEN by Jonathan Trott's departure and angered by relentless taunts from parts of the media, England appears to have withdrawn into a shell, barring some outlets and refusing to talk to journalists.
GEORGE BAILEY was playing the gentlemen when asked for details about his Gabba exchanges with James Anderson.
ABC ONLINE
AUSTRALIAN opener Chris Rogers has defended David Warner's comments regarding troubled England batsman Jonathan Trott, saying no Australian players knew of his mental state.
THE WEST AUSTRALIAN
EX-ENGLAND skipper Michael Vaughan says Michael Clarke needs to stop pointing the finger, as he did in his exchange with Jimmy Anderson at the Gabba.