Ashes 2013-14: Andy Flower - a line must be drawn
Andy Flower says England and Australia must "draw a line" to ensure the acrimonious scenes in Brisbane are not repeated.
Last Updated: 26/11/13 7:09pm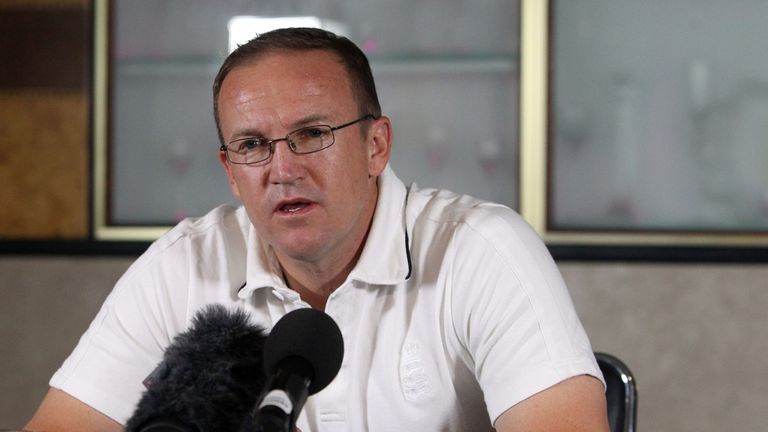 The England coach said that both camps now need strong leadership to ensure neither "crosses the line" in the rest of the series.
Jonathan Trott flew home with a stress-related illness and will take no further part in the series. England insist his mental health issues are a long-term issue, and not directly related to the criticism he received from Australia's David Warner.
Warner called Trott's second-innings dismissal "weak", with the Warwickshire star struggling throughout the match against short-pitched fast bowling.
In addition Australia captain Michael Clarke told England's James Anderson to "get ready for a broken arm" at the Gabba whilst he was facing fast bowler Mitchell Johnson.
Sledging
But the Aussies insist Anderson and the rest of the England team are also not averse to 'sledging', with Peter Siddle claiming nothing unusual went on during the first Test.
England have closed ranks as a result of Trott's departure. They refused to answer questions from the Australian media ahead of their flight to Alice Springs.
England skipper Alastair Cook, Kevin Pietersen, Graeme Swann and Michael Carberry were among those who refused to answer questions at the airport.
The players faced repeated questions about Trott's departure, with Pietersen walking past with earphones in saying "I can't hear you" to the press.
Flower has called for both teams to draw a line, and says it is up to leaders in both teams to enforce it.
"I think there are standards of behaviour that individuals and teams must set themselves," said Flower.
"The competition should be intense. It's played between two proud cricketing nations. But I think we need good leaders, who know where to draw the line, and they need to be good role models."
Perspective
Trott's departure has inevitably created a more sombre mood, and Flower added: "This type of situation does put it into perspective.
"I believe that the series can still be played in a good spirit - and let the best team win it. I believe it should be a very exciting series.
"But I agree there's a balance to be had, and we all have a responsibility to find that balance."
Wicketkeeper Matt Prior believes Warner crossed the line with his criticism of Trott.
He wrote in his Daily Telegraph column: "Disrespecting individual players in press conferences, I find, is unacceptable - and as a team, we found it disappointing what David Warner said after play on Saturday.
"It is up to him how he talks, but there is a line not to cross as a player before you get into dangerous territory."
England have meanwhile arrived in Alice Springs where they will play a two-day match against a Cricket Australia Chairman's XI.
And Flower is hoping the trip will help England recover from their bruising defeat in Brisbane.
"Look, this was a bad loss for us," he said. "But we have a history of adapting quickly and recovering from losses such as this. Luckily, they don't occur that often.
"I think the break in Alice Springs ... comes at a good time. It gives us a little chance to have a think about what happened at Brisbane and how to come back stronger and better in Adelaide.
"I'm personally looking forward to the challenge and I think the team will do likewise."
The second Test in Adelaide will be shown live on Sky Sports 2 HD from December 5.