Ashes Paper Talk
A look at the top stories in the Australian papers as England refuse to talk to local media in Brisbane.
Last Updated: 26/11/13 11:52pm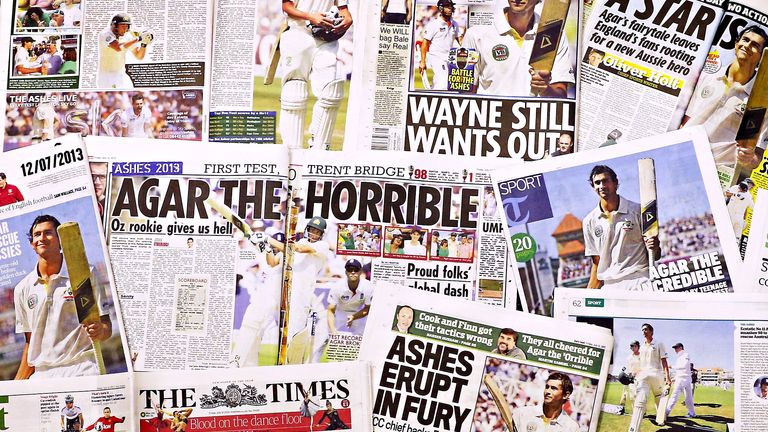 A look at the top stories in Wednesday morning's Australian papers as the England camp refuse to talk to local media in Brisbane, as the fall-out from Jonathan Trott's exit and sledging at the Gabba rumbles on.
THE DAILY TELEGRAPH
ENGLAND were so rattled by Australia's short ball assault by Mitchell Johnson at the Gabba in the opening Test that they resorted to quizzing match officials about the rules on dangerous bowling.
With the England players refusing to speak to local media, the paper states the team are now on a "committed war-footing" with a "siege mentality".
Their silence at Brisbane airport is colourfully described. "This circle the wagons approach handed down by dour coach Andy Flower is the same disconnected response England employed when it was flogged 5-0 during 2006-07 Ashes under another humourless Zimbabwean mentor, Duncan Fletcher."
KIM HUGHES, former Australia captain, has joined the queue of ex-players slamming David Warner for his comments about Jonathan Trott. "Irrespective of what Jonathan Trott has done now, I think it is one of the worst things I've ever heard in my whole life."
THE AUSTRALIAN
With the subject of sledging a sizzling hot potato Down Under, Aussie GEORGE BAILEY played a straight bat when asked about his showdown banter with Jimmy Anderson.
The Tasmanian, who made his Test debut in Brisbane, said: "He must have been a bit upset about the way the game was going, I guess."
And on the England players refusing to speak to its reporters, the paper reports: "Shaken by Jonathan Trott's departure and angered by relentless taunts from parts of the media, England appears to have withdrawn into a shell."
THE WEST AUSTRALIAN
Former England skipper Michael Vaughan has been revealing his thoughts on the fall-out of Trott's exit and the rights and wrongs of sledging.
The paper says: "Swearing is going to happen on a sporting field but a captain pointing the finger at an opponent, that has to stop. This is the viewpoint of Michael Vaughan, who says Australia captain Michael Clarke has done more damage to the game with his body language than with his verbal threat which was aired by broadcaster the Nine Network."
THE ADVERTISER
The paper digs out a few old stories, highlighting how common mental breakdown is at the top level of international cricket.
The paper dramatically reveals: "Can you imagine the great Steve Waugh hoping an injury ruled him out of a tour to save him from the embarrassment of playing on? Can you picture the indomitable Matthew Hayden waking up in a cold sweat after having wicked dreams about the pressures of the innings that awaited him the next day?
"And could you seriously believe that just before Adam Gilchrist hit 102 off 59 balls against England in a Test match in Perth he could be a sobbing wreck in the dressing room? It's all true. Even men of steel can feel vulnerable, exposed and helpless. The above incidents happened well away from public view and there are hundreds more like them owned by cricketers who will be reflecting on their own darkest days in the wake of Jonathan Trott's decision to quit."
SYDNEY MORNING HERALD
AUSTRALIAN COACH DARREN LEHMANN has rejected a request from England's Andy Flower to discuss the teams' behaviour as International Cricket Council match referee Jeff Crowe prepared to remind both sides of their responsibilities before the Adelaide Test.
It has also emerged that David Warner was counselled by team management about his criticism of England batsman Jonathan Trott. Neither Cricket Australia nor the ICC will take action against Warner but Fairfax Media has learnt that Crowe will address both teams about their behaviour following the explosive finish to the Gabba Test.
A trio of England Test rookies have emerged as contenders to fill the massive hole left by Trott's departure, as the besieged visitors escaped the spotlight in the red centre on Tuesday.
Jonny Bairstow and uncapped duo Gary Ballance and Ben Stokes are all in contention to come into the England line-up for the second Test and will get their chance to impress in a two-day tour game against a Cricket Australia Chairman's XI starting on Friday in Alice Springs.
"AGGRESSIVE ANDERSON deserves to get some of his own medicine, says Siddle" is the headline at the top of their sporting pages.
England paceman Jimmy Anderson can dish out sledging, so it's only fair he has to cop it, Australian quick Peter Siddle says. ''Throughout the series there will be more of it going on, but it will be under control,'' Siddle said ''Anderson brought it on himself, so fair's fair."
BRISBANE TIMES
STEVE HARMISON has revealed the 10 years of depression he suffered during England cricket duty.
"I know what Jonathan Trott is going through because I have been through it as well. I wish I had said more, but I was scared of the reaction. Nobody knows more than me what it is like to be depressed while you are on a cricket tour because I spent 10 years hiding it as homesickness."
BRISBANE COURIER MAIL
With England flying out of Brisbane for their warm-up match ahead of the second Test, a tasty welcome awaits the tourists says the newspaper.
Headline 1: "England set for punishing conditions when they face Chairman's XI in Alice Springs."
Headline 2: "Red Centre stinker awaits Pasty Poms"
Headline 3: "WELCOME England to your red-dirt rendezvous in Alice Springs with temperatures nudging 40 degrees"