Ashes: Australia poised to name Nathan Lyon in unchanged Test team
Australia coach Darren Lehmann has admitted Nathan Lyon is likely to retain his place for the third Ashes Test in Perth.
Last Updated: 11/12/13 10:10am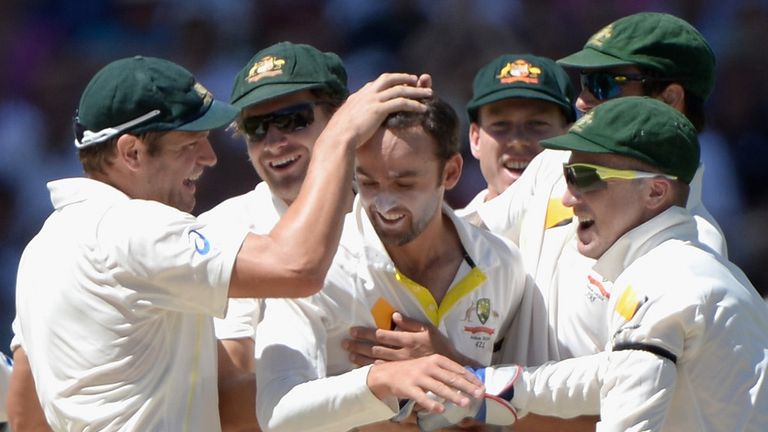 Despite winning the first two Tests of the five-match series against England, Lehmann had been pondering a change to his line-up - particularly with the WACA traditionally favouring pace attacks.
And although Lehmann is yet to make a final decision on his side, with temperatures rising in Perth Lyon is set to get the nod ahead of James Faulkner.
"We'll have to look at the wicket first and foremost, see what it's like," Lehmann told the Cricket Australia website.
"If we think it warrants Faulkner playing and the four quicks so be it. But, look, it's going to be hot weather here - it's 35 degrees and getting up to 40 on Monday - so I think we'll play the spinner.
"Again, we've got to work out who has pulled up fit from the last Test match, so we'll see what happens."
Lyon's case has been helped by WACA head groundsman Matt Page saying that there would be something in the pitch for the spinners.
Turn
He said: "Spinning-wise you'll get the foot marks day four, day five.
"You'll get a bit of turn out of there. Spinners here normally get the bounce more than anything."
Australia could turn to Steve Smith to provide a spinning option should they opt for Faulkner to complete a four-pronged pace attack alongside Peter Siddle, Mitchell Johnson and Ryan Harris.
Alternatively Shane Watson could be asked to support the quicks if Lyon remains in an unchanged line-up.
Watson has been eased back into the Test team after recovering from a hamstring injury, however Lehmann admits he will be looking to the all-rounder to now do more with the ball in hand.
"He's been under-bowled," added Lehmann. "He could have bowled more in the first Test, and this Test match.
"From our point of view that's handy. But he's an all-rounder, so we expect him to bowl more. And he'll certainly have to in Perth if the weather is hot."