Ashes paper talk
The latest news and opinion from the Australia press after Day Four of the third Test in Perth...
Last Updated: 16/12/13 6:32pm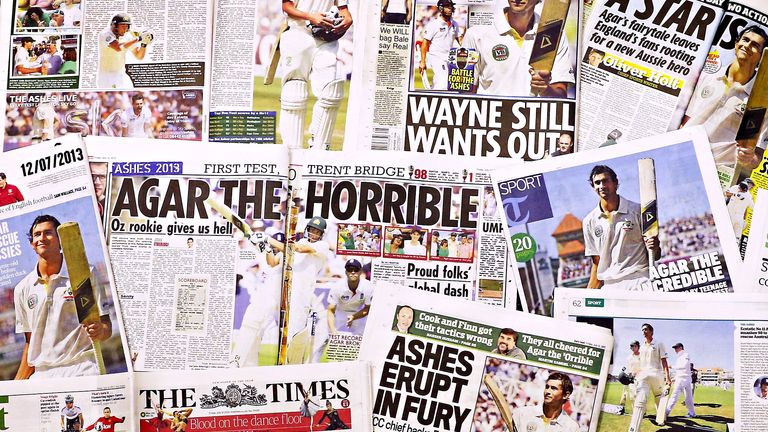 SYDNEY MORNING HERALD
SHANE Watson's fourth Test century goes into the scorebook as a run-a-ball 103, but it was less like cricket than Whac-A-Mole. Questions arose, Watson swung at them, sometimes hitting, sometimes missing, and another popped up somewhere else. Malcolm Knox
IN the three-month gap between Australia's away and home Ashes series, Michael Clarke and his teammates have learned how to use the Decision Review System. Jesse Hogan
SHANE Watson believes he has got his mojo back after a devastating Test century at the WACA Ground on Monday in which he was given a licence to thrill.
IF England's bowlers tried to kick themselves this Ashes series, they would probably miss. The tourists are on the verge of surrendering the Ashes, and their inept batting shouldn't cop all the blame. Justin Chadwick
DAVID Warner's Ashes series redemption has silenced his knockers, says former Australian Test star Mike Hussey.
THE WACA Ground may never again host a Test match, with Cricket Australia and the International Cricket Council united in their belief the venue no longer meets international standards.
BRISBANE COURIER MAIL
BEN Stokes shows some much-needed fight for England but one special delivery from Ryan Harris summed up this Ashes series.
AUSTRALIAN cricket's man-of-the-moment, Dave Warner, is on the verge of becoming a $50 million career player.
GEORGE Bailey is thriving in the quirky role of mid-innings "bomber'' to challenge rival attacks when they tire.
WHEN England captain Alastair Cook walked off the WACA Ground on Monday he looked like a man heading for the gallows. Robert Craddock
SHANE Watson said he was embarrassed about his bizarre dismissal shortly after bringing up a swashbuckling century.
BEN Stokes arrived in Australia as a 22-year-old wannabe but has suddenly become the pin-up boy of a tour gone wrong.
THE AUSTRALIAN
AUSTRALIA has squeezed the life out of England on a sizzling Perth day to hold the tourists to 4-180 and take another large step towards reclaiming the Ashes.
GEORGE Bailey has equalled a world record by smashing 28 runs off a James Anderson over.
THESE days Mitchell Johnson is so accurate that it came as no surprise when he was tasked with bringing the Perth wicket's widening cracks into play.
HERALD SUN
SEVEN years after Shane Warne bowled Monty Panesar in Perth for Australia to regain the Ashes, it's happening again.
FORMER Test star Mike Hussey says Australia can reclaim the No.1 Test ranking following a summer of domination over England.
SHANE Watson made a rollicking ton on Monday - but even then he was able to attract criticism for a diabolical dismissal.
THE AGE
AUSTRALIA have enjoyed a glorious summer against England but with a team featuring two 36-year-olds and five others over 31 it is not necessarily the start of a new golden era.
THE first warning signs of England's decline came when they failed to beat New Zealand in early 2013, says Geoff Boycott.