The Ashes 2013/14: England's Ian Bell talks to Sky Sports at the close of play on day one
Ian Bell admitted to a sense of frustration in the England camp after the tourists finished on 226-6 in Melbourne.
Last Updated: 26/12/13 10:24am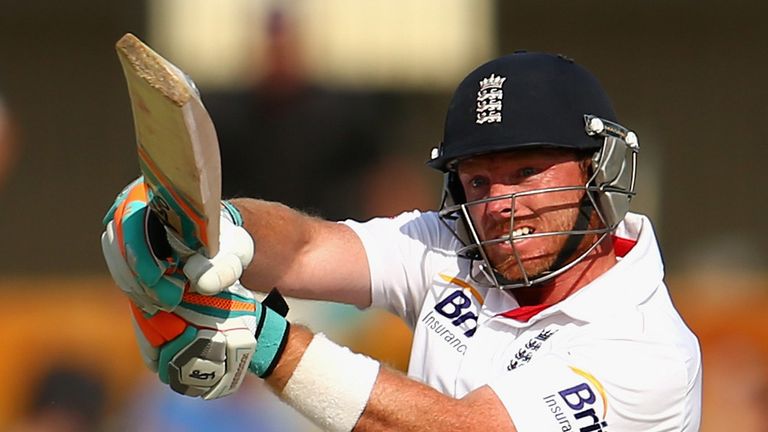 By the standards of a disappointing tour, this was one of England's better batting days, but Bell felt they should have done better after being asked to bat first at the MCG in front of a world record crowd.
Bell himself toliled to 27 from 98 balls, while Kevin Pietersen is 67 not out overnight.
The Warwickshire batsman helped add 67 for the fourth wicket before becoming the second of two victims for the excellent Ryan Harris.
Bell told Sky Sports: "I guess it's been a bit frustrating. Kev is not out, which is a good sign for us, but a lot of guys got starts so it's disappointing no one has gone on and got a big score.
"On a good surface, we'd like to be a few wickets less but Australia bowled well. Hopefully we'll get close to 300-plus and put a bit of pressure on Australia possibly.
"We need big runs and we've not got them, but if Kev and Bres (Tim Bresnan, one not out) can hang around, maybe we will get 300 plus and put some pressure on Australia."
England's batting line-up was again brought into question after a low-scoring day.
"Perhaps it's a bit of both," Bell said, when asked if it was a case of good bowling or out-of-touch batsmen.
"I've been in good touch personally but I am as guilty as anyone. It's something we're aware of and need to work on. We need to get back to scoring big runs.
Balance
"We need to find the right balance and put pressure on the bowler. I go out to try and run hard and not allow the bowlers to bowl, but you can only hit what you get given.
"We want to score as many runs as possible, that's the idea of batting."
Bell also spoke of the developing new look of the England dressing room, with Graeme Swann having retired this week and Matt Prior being dropped for the first time in five years.
"The camp is good, it's good to see young, fresh faces," he said. "We are trying to enjoy this occasion and scrap hard. We showed fight today with young guys."
On Swann's shock decision he added: "Everyone is entitled to make their own decision on when their time is up. I've not spoke properly with Graeme, but that was his decision. He felt he had no more.
"He's been a great player to play with for England."