Ashes 2013/14: What the Australian papers are saying about the series
A round-up of what the Australian media has to say as the home side close in on a series whitewash.
Last Updated: 04/01/14 7:31pm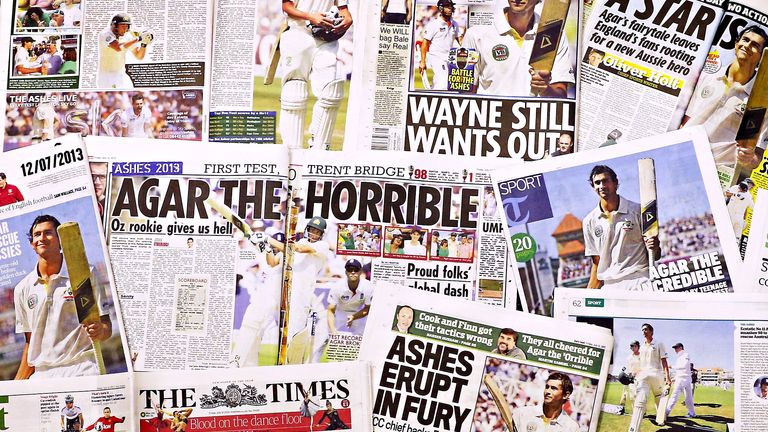 Another day, another new low for the England cricket team in Australia.
After allowing the home side to wriggle off the hook yet again on day one, the tourists' top order capitulated to 23-5 in their reply on day two, before limping to 155 all out and ending the day 311 runs behind.
And the home press could not be more gleeful at the prospect of their side sealing only the third series whitewash in Ashes history.
Chloe Saltau in the Sydney Morning Herald sums it up in cold, hard (and uncomfortable, if you're an England fan) facts: "Michael Clarke's team is on course to emulate the Australian side of 1920-21, led by Warwick Armstrong, and Ricky Ponting's team of champions in 2006-07 with an Ashes whitewash. Johnson, with 34 wickets at an astonishing success rate of 14.02, only needs to run through England one more time to become the fourth Australian to collect 40 wickets in an Ashes campaign."
In the Brisbane Courier Mail, Richard Hinds speculates on the future of England captain Alastair Cook, who was caught LBW without a playing a shot by Ryan Harris in just the second ball of day two.
"Body language is a notoriously unreliable guide to state of mind," writes Hinds. "But there are death row prisoners tucking into their final meal who have seemed more eager to commence the day's activities than Cook during the final forlorn week of a Tourus Horribilis."
Hinds adds: "Whatever his fate, Cook looks ready for a break. The first Captain Cook to make an impact here stopped over in Hawaii on the way home and was killed by the natives. This Captain Cook has suffered that fate before leaving Australian waters."
One of Australia's heroes throughout this Ashes series has been Brad Haddin, who once again came to the home side's rescue by scoring 75 to help steer them from 97-5 to their eventual first-innings total of 326 in Sydney.
There had been rumours at the start of the fifth Test that such efforts would soon be things of the past as the wicketkeeper was set to retire.
However, the Canberra Times have set the record straight by quashing such chatter courtesy of denials from his team-mate Steve Smith and former Aussie keeper Ian Healy.
Chris Barrett ends his piece by saying: "It is little wonder that there was concern in the Australian ranks about talk of Haddin quitting.
"The retirements of Ricky Ponting and Mike Hussey caught them by surprise, undermining plans for the tours of India and England last year.
"With a series against world No.1 South Africa only weeks away they would have been staring at finding an immediate replacement from the likes of Tim Paine, Peter Nevill or Matthew Wade.
"Australia cannot afford to lose Haddin right now. It will be breathing a sigh of relief that it isn't."