Kevin Pietersen can earn millions as T20 player says former IPL commissioner Lalit Modi
Former IPL commissioner Lalit Modi has revealed Kevin Pietersen could earn as much as £3m a season.
Last Updated: 06/02/14 11:08am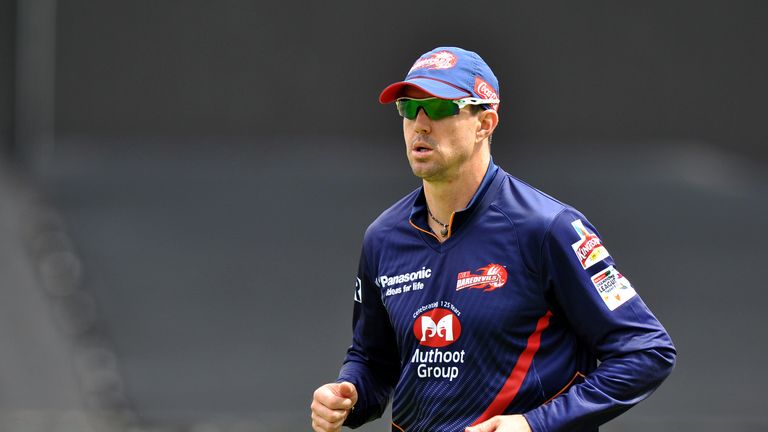 The 33-year-old batsman was told his England career was over on Tuesday amid huge controversy - but Modi was quick to highlight the pros of Pietersen's new freedom.
He said of Pietersen, who has already represented Royal Challengers Bangalore, Deccan Chargers and Delhi Daredevils in the competition: "I think, as far as the franchises are concerned, this is like a God-sent gift.
"Kevin Pietersen is one of the world's best players, without any doubt, as far as Twenty20 is concerned, and other forms of the game.
"Every (IPL) team owner's dream was to get Kevin Pietersen to be playing full-time, to be available for the whole season, but he had to make time for the national team, rightly so.
"But now that he will be available for the whole time I think it will be England's loss and the IPL's gain and I myself am extremely happy that he will be available.
"I wouldn't be surprised if he went upwards of £2.5 to £3million."
Pietersen's absence from the England middle order will mean a rethink as the team plan for the future and batting coach Graham Gooch hopes the selectors put their faith in youth.
Gooch said: "England needed to rebuild the team after Australia because our performances were unacceptable.
"Our performances were not up to the standard that we've produced in the recent past and obviously they want to move forward and build a new future with some younger players, so that's the decision they've made.
"I'm not a selector and I don't make those decisions but introducing new talent to your team on a regular basis is the way you move forward in the long run."
Gooch would not be drawn on talk that Pietersen's antics had split the England dressing room, twice swerving the subject when asked if he had been a divisive figure.
He said: "I've been involved with England for five years and Kevin's played some great innings for England.
"He's been a box office player, an exciting player to watch and I'll just remember the great things he has done for us in the past."
When asked again about Pietersen's behaviour, he added: "I think I've just given you the answer."
But the controversial end to Pietersen's international career saw Matt Prior respond on Twitter to accusations of "hypocrisy" from celebrity cricket follower Piers Morgan.
Prior reacted to Morgan's account of what he believes the wicketkeeper said in a team meeting during England's Ashes whitewash in Australia this winter.
"I don't do this PR, spinning media rubbish but I refuse to be attacked by a bloke that knows very little about what goes on in the England set-up - apart from rumour, gossip and hearsay from certain individuals (most of whom I'd take with a pinch of salt!!)," Prior tweeted.
"Maybe I was recorded or 'hacked' - but if not I'd like to see where these words I apparently said have come from?"
Morgan insists Prior was critical of coach Andy Flower, when speaking to team-mates, and "stabbed [Pietersen] in the back".
"I'm not the kind of person to divulge what is said in team meetings but all I will say is that Flower, Cook and the rest of my team mates know exactly what I said & the way in which it was meant!" said Prior.
He added: "There is no story here, just an attempt to knock someone who has only ever had the team's best interests at heart and tried my best on and off the field to help the England cricket team.
"I can hold my head up high in that knowledge!"
You can watch a Sky Sports cricket special 'KP - The Great Innings' - on Thursday night at 8.30pm and also a 30 minute live show at noon on Sunday: 'KP - The Verdict' - both on Sky Sports 2HD. The shows will also be available via On Demand.