ICC 'big three' reforms given go-ahead as Pakistan and Sri Lanka abstain
The International Cricket Council board has approved reforms handing more power to India, England and Australia.
Last Updated: 08/02/14 5:04pm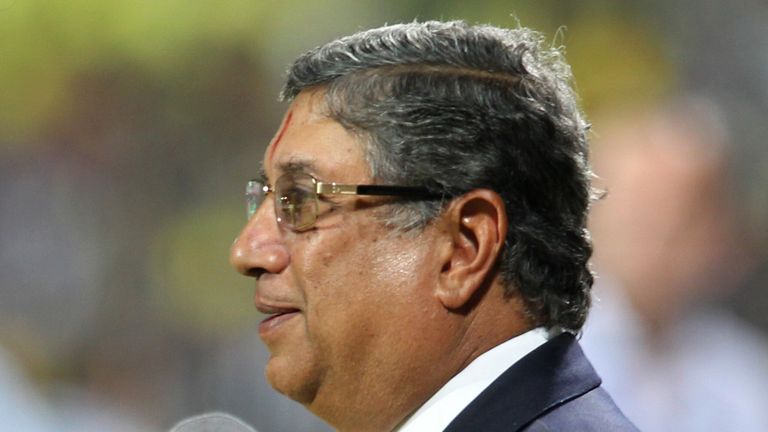 Eight of the organisation's 10 members voted in favour of the wide-ranging proposals, which include permanent seats for the 'big three' countries on a fie-man executive committee.
The 16-man ICC board first discussed the controversial measures, which seek to overhaul "the governance, competition and financial models" of the ICC in Dubai on January 28, but voting on proposals was deferred until Saturday's
follow-up meeting in Singapore.
Pakistan and Sri Lanka, both publicly opposed to the changes in the run-up to the vote, abstained, while Cricket South Africa and the Bangladesh Cricket Board both voted despite airing their concerns over the shake-up.
Current Board of Control for Cricket in India president N Srinivasan will chair the ICC executive council from later this year, with CA's Wally Edwards chairing the executive committee and ECB chairman Giles Clarke continuing to head the financial committee.
ICC president Alan Isaac: "There were eight full members who were in a position to support the resolution today.
"The two who have abstained have pledged to further discuss the issues with an aim to reaching unanimous approval over the coming weeks."
India had complained of a lack of recognition in revenues from global events, and it has now been agreed that full members will receive a greater share of central funds based largely on their own financial contribution, but also considering "their ICC history and their on-field performances in the three formats".
Speculation emerged earlier this year that the BCCI had considered pulling the India team out of major ICC competitions such as the World Cup and the World Twenty20, had a new distribution scheme not been agreed.
An ICC statement confirmed the new finance agreement was "required to provide long-term certainty of participation of all members in both ICC events and bilateral series against other members".
The statement added: "Without that certainty, the rights for ICC events, which are to be taken to market this year, would have been significantly impacted and, by extension, so would the financial support that has driven the growth of cricket around the world."
As expected, plans for a World Test Championship have again been shelved, and the 50-over Champions Trophy will return in 2017 and 2021.