Australia face decision on Shane Watson's fitness ahead of Test decider in South Africa
Shane Watson's improving fitness could mean an unlucky Australian batsman missing the decider in South Africa.
Last Updated: 24/02/14 5:57pm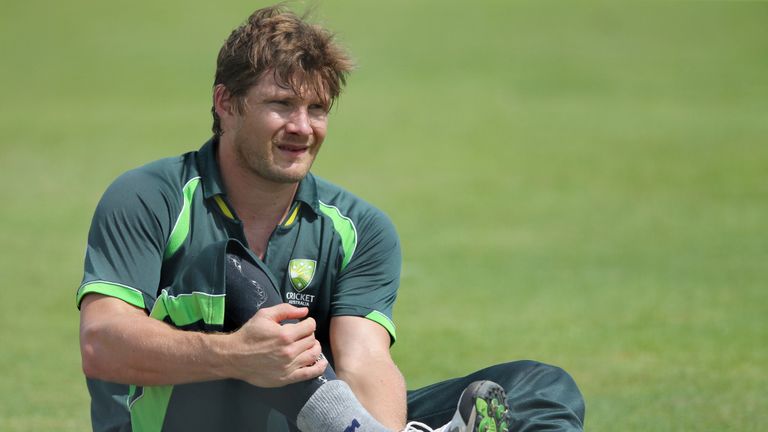 Watson has sat out the first two Tests of a three-match series which reaches Newlands on Saturday all-square at 1-1.
But the all-rounder's calf injury has healed enough that he was able to bowl in the nets at Port Elizabeth, where the tourists were beaten by 231 runs.
And the back-up he provides for Australia's front-line seamers could sway selection in his favour - meaning, in all likelihood, either Alex Doolan or Shaun Marsh making way.
Lehmann said: "As long as he's bowling overs and he's fit, we'd love to have that extra bowler. We'll have to wait and see how that comes along.
"If we have to fit Shane Watson in and someone misses out, they'll be really unlucky.
"It depends on whether we need the fifth bowler or we don't - we'll have to make that decision when we see the wicket - and he's got to be fully-fit. All those things come into it."
Most vulnerable
Marsh - recalled as cover for Watson ahead of the first Test - made a century on his return to the side but was twice out for a duck in Port Elizabeth.
The left-hander appears most vulnerable along with Doolan, a debutant in the first Test who made a combined 13 in his two second-Test innings.
Whatever team the selectors choose, coach Lehmann is expecting a better first-innings score than the 246 they managed in Port Elizabeth.
"The disappointing thing was our first-innings runs," he said. "We harp on most of the time about getting better in the first innings, but there's no panic button - we'll get ready for Newlands and it's going to be a great Test match."
Watch the deciding Test at Newlands live on Sky Sports. Coverage begins at 8.25am on Sky Sports 2 this Saturday.