Ottis Gibson not interested in taking England role vacated by Andy Flower
West Indies coach Ottis Gibson is the latest man to distance himself from the England vacancy left by Andy Flower.
Last Updated: 26/02/14 7:31pm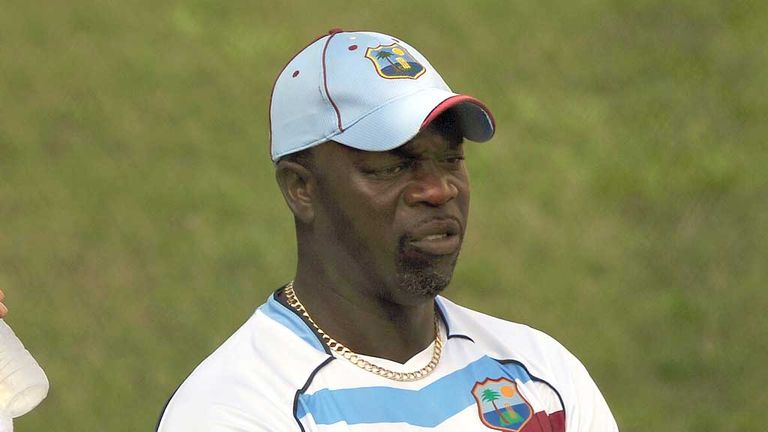 Gibson served under Flower as England's bowling coach before heading back to the Caribbean in 2010, and he remains committed to bringing further success to the West Indies.
The 44-year-old helped guide them to victory in the 2012 ICC World Twenty20 in Sri Lanka, a title they will be defending in Bangladesh next month, but he says there is still plenty of work to do.
"My name is firmly in the hat for this job I'm doing," said Gibson, who is preparing his team for three one-day internationals and three T20s against England over the next fortnight.
"The West Indies job is tough enough, and I'm fully committed to this one to get it right and improving the fortunes of West Indies cricket.
"When you're not working then every job appeals to you, but at the moment I'm working and working hard - so that is all I'm looking at right now."
Gibson admits he has plenty of sympathy for Flower, who departed his role as Team Director in the wake of the shambolic Ashes whitewash at the hands of Australia.
"What happened between England winning in the summer and then going to Australia is that the Aussies improved beyond belief," he added.
"When you've got one person like Mitchell Johnson bowling as a well as he did and being hostile, plus good back-up with (Ryan) Harris and (Peter) Siddle, then you can see that Australia improved and England didn't.
"It just shows how quickly things change sometimes in sport.
"I feel a little bit sorry for Andy Flower - because I was here with him when we [England] got bowled out for 51 in Jamaica, and it didn't look good then.
Great
"Where he then took the team to No 1 in the world and winning world titles and three Ashes in a row and that sort of stuff, was great.
"When things changed it seemed like people forgot about the three or four great years he had - and after one bad series, he is contemplating his future and people saying he should be sacked and stuff like that.
"I guess that is the nature of coaching, but it is still sad in a way."
He also hopes to have talismanic opening batsman Chris Gayle, who has been struggling with a hip injury, available for the T20s in Barbados.
"From all reports I've heard Chris should be back," he said.
"He had some time out with a hamstring injury and he had a good two months to get himself right. He did some work in Australia with a physio he feels comfortable with over there.
"He was back here and played in the first T20 (against Ireland) and looked good, but then he had a reaction in his back. When you work so hard on one thing then something else can give way.
"He had a reaction in his back and his hip, so we've given him some more time to get himself comfortable on the cricket field."