Novice 50-over captain Stuart Broad is hoping England can beat West Indies
Novice 50-over captain Stuart Broad is hoping England can begin to put the horrors of their Australia tour behind them.
Last Updated: 28/02/14 1:55pm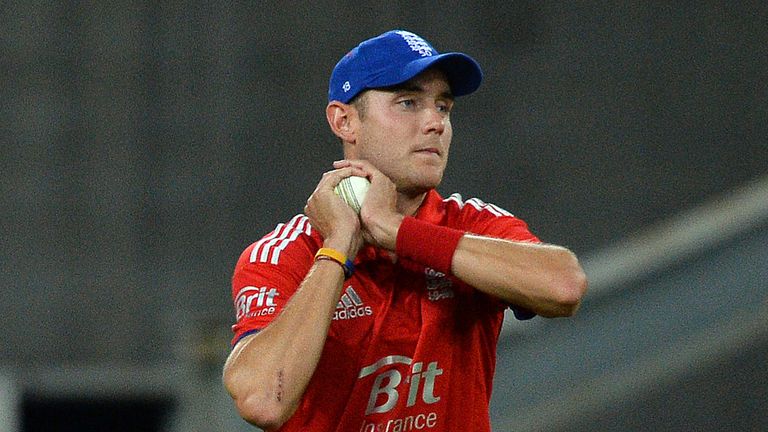 England won only one limited-overs encounter across the formats during a chastising time down under this winter but Broad is confident he and coach Ashley Giles can find shoots of recovery in the Caribbean.
Broad is leading the tourists in three one-day internationals at the Sir Vivian Richards Stadium, the first on Friday, before returning to his 'day job' in charge of the Twenty20 team for three more fixtures against the Windies in Barbados and then a short-format World Cup in Bangladesh.
Broad, 27, has only captained once in any 50-over match - England's warm-up win over a UWI Vice-Chancellor's XI on Tuesday at the same venue.
He said: "He's great. He's pretty relaxed but does set high goals for us and expects a lot from us.
"He's really coming down hard on us on what he expects... things like not bowling no-balls in training because that can affect your length in matches.
"He's gone back to basics in making the players expect more of themselves in training to put into practice in games."
Broad's squad, a Twenty20 specialist one in view of the imminent global tournament set to start as soon as this short tour is over, has reacted well so far to Giles' urgings.
"The guys have really enjoyed the first five or six days," said the captain. "It's been hard work, but we knew it was going to be physically hard work and were expecting it.
"Hard work brings you closer. Doing fitness sessions together, you drive each other on - so team bonds grow."
Build momentum
Broad has called for his batsmen to get runs on the board early to help build momentum.
"You look at that Champions Trophy - when we had a lot of success through, not being defensive, but stacking it up at the back end," Broad added.
"When you play abroad, as was evident in Australia, you can't be 130 after 30 - you've got to look to be more like 160, so you're not as reliant on people like Morgs (Eoin Morgan) and (Jos) Buttler to get us up towards 300.
"I think there's a bit of change in mindset to push our score a bit beyond 130 after the first 30 (overs) to take a bit of pressure off the guys at the end.
"We've got world-class players there, but you can't expect them to do it every time."
England's plan A was apparently to field the same team which won here two days ago.
But key middle-order man Morgan had to sit out nets on Thursday, having hurt his left knee fielding against the VC XI, and the tourists may also consider picking a second specialist spinner after seeing the surface favour James Tredwell last time.
"I think our death bowling is somewhere where we need our skills to improve," said frontline seamer Broad.
"Of course, that comes with yorkers and our 'change-ups' - and that will also help us in Bangladesh.
"The pitches there can be pretty good to bat on, so getting up in the (block)hole is important."
Watch West Indies v England on Sky Sports HD2 from 13.00 on Friday