Cricket: Sky Sports will feature every county during their live coverage this summer
Sky Sports will feature every county live during a new look domestic season as part of an unrivalled summer of cricket.
Last Updated: 14/04/14 1:56pm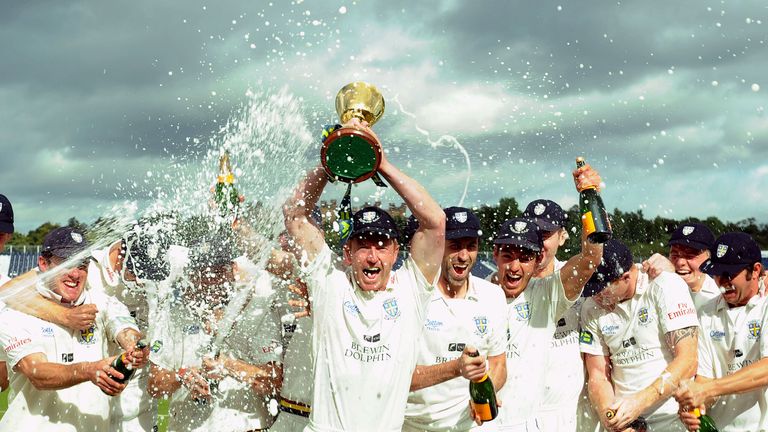 The line-up will include the new Royal London County Cup, now played in a 50-over format, and the NatWest T20 Blast, the new name for the domestic T20 competition.
The schedule of live county cricket on Sky Sports begins with the first of three LV=County Championship matches, and continues with 39 NatWest T20 Blast fixtures, including a Middlesex double header in the first weekend, and 15 Royal London County Cup matches beginning with The Roses match at Old Trafford.
A busy summer of international cricket on Sky Sports includes live coverage of England's Tests, ODIs and T20s against Sri Lanka and India plus an ODI against Scotland. The fifth Test between England and India will be the 200th to be shown live on Sky.
Bryan Henderson, cricket executive producer for Sky Sports, said: "We've got all the stories covered this summer with a new schedule and new competitions. There's every county live, all of England's matches, plus lots of features and programmes. It's going to be a great summer of cricket with Sky Sports."
The summer of cricket forms part of an unrivalled schedule of sport across six Sky Sports channels, including the end of the football season, golf's US Open and US PGA Championship, summer international rugby, US Open tennis, every F1® Grand PrixTM and The 2014 Ryder Cup.
Cricket coverage on Sky Sports is available on TV, PC and on the move via mobile and tablet devices, thanks to Sky Go.
Sky Sports News HD provides daily cricket reports, views and analysis while skysports.com, the UK's leading commercial sports website, provides live cricket scores, interviews and news.
International coverage
Fri 9 May: Scotland v England ODI (Aberdeen)
Royal London ODI's / NatWest T20's
Tue 20 May: England v Sri Lanka T20 (Kia Oval)
Thu 22 May: England v Sri Lanka 1st ODI (Kia Oval, d/n)
Sun 25 May: England v Sri Lanka 2nd ODI (Emirates Durham)
Wed 28 May: England v Sri Lanka 3rd ODI (Emirates Old Trafford d/n)
Sat 31 May: England v Sri Lanka 4th ODI (Lord's)
Tue 3 Jun: England v Sri Lanka 5th ODI (Edgbaston d/n)
Investec Test Series
Jun 12-16: England v Sri Lanka 1st Test (Lord's)
Jun 20-24: England v Sri Lanka 2nd Test (Headingley)
Jul 9-13: England v India 1st Test (Trent Bridge)
Jul 17-21: England v India 2nd Test (Lord's)
Jul 27-31: England v India 3rd Test (Ageas Bowl)
Aug 7-11: England v India 4th Test (Emirates Old Trafford)
Aug 15-19: England v India 5th Test (Kia Oval)
One-Day Match
Sat 5 Jul: MCC v Rest of the World (Lord's)
Royal London ODI's / NatWest T20's
Mon 25 Aug: England v India 1st ODI (Bristol)
Wed 27 Aug: England v India 2nd ODI (Cardiff)
Sat 30 Aug: England v India 3rd ODI (Trent Bridge)
Tue 2 Sept: England v India 4th ODI (Edgbaston)
Fri 5 Sept: England v India 5th ODI (Headingley)
NatWest Women's International T20 Series
Mon 1 Sep: England v South Africa 1st T20 (Chelmsford)
Wed 3 Sep: England v South Africa 2nd T20 (Northampton)
Sun 7 Sep: England v South Africa 3rd T20 (Edgbaston)
U19 ODI Series
Fri 22 Aug: England U19 v South Africa U19 (Derby)
Domestic coverage
NatWest T20 Blast
Fri 16 May: Nottinghamshire v Lancashire
Sat 17 May: Middlesex v Essex
Sat 17 May: Middlesex v Sussex
Sun 18 May: Somerset v Surrey
Fri 23 May: Birmingham Bears v Yorkshire
Thu 29 May: Derbyshire v Northamptonshire
Fri 30 May: Surrey v Middlesex
Sun 1 Jun: Leicestershire v Birmingham Bears
Thu 5 Jun: Hampshire v Kent
Fri 6 Jun: Lancashire v Yorkshire
Sat 7 Jun: Worcestershire v Durham
Sun 8 Jun: Gloucester v Glamorgan
Wed 11 Jun: Kent v Essex
Thu 19 Jun: Birmingham Bears v Northamptonshire
Fri 20 Jun: Essex v Middlesex
Wed 25 Jun: Glamorgan v Hampshire
Thu 26 Jun: Middlesex v Gloucestershire
Fri 27 Jun: Yorkshire v Lancashire
Sat 28 Jun: Nottinghamshire v Yorkshire
Sun 29 Jun: Durham v Derbyshire
Tue 1 July: Yorkshire v Leicestershire
Wed 2 July: Surrey v Kent
Thu 3 July: Northamptonshire v Birmingham Bears
Fri 4 July: Gloucestershire v Sussex
Sun 6 July: Hampshire v Somerset
Tue 8 July: Birmingham Bears v Nottinghamshire
Fri 11 July: Sussex v Kent
Tue 15 July: Sussex v Glamorgan
Wed 16 July: Surrey v Somerset
Fri 18 July: Kent v Somerset
Tue 22 July: Essex v Hampshire
Wed 23 July: Northamptonshire v Nottinghamshire
Thu 24 July: TBC
Fri 25 July: TBC
Fri 1 Aug: Quarter Final 1
Sat 2 Aug: Quarter Final 2 & 3
Sun 3 Aug: Quarter Final 4
Sat 23 Aug: Finals Day
Royal London County Cup
Sat 26 Jul: Lancashire v Yorkshire
Tue 5 Aug: Sussex v Durham
Wed 6 Aug: Kent v Glamorgan
Tue 12 Aug: Warwickshire v Surrey
Wed 13 Aug: Essex v Hampshire
Thu 14 Aug: Middlesex v Nottinghamshire
Wed 20 Aug: Group B final round
Thu 21 Aug: Group A final round
Tue 26 Aug: Quarter Final 1
Thu 28 Aug: Quarter Final 2 & 3
Fri 29 Aug: Quarter Final 4
Thu 4 Sep: Semi Final
Sat 6 Sep: Semi Final
Sat 20 Sep: Final
LV= County Championship
May 4-7: Durham v Yorkshire
Sep 15-18: TBC
Sep 23-26: TBC