Cricket Expert & Columnist
Alastair Cook's job as England captain 'in danger due to form and results'
Bad combination of poor personal and team records has ramped up the pressure
Last Updated: 24/06/14 5:27pm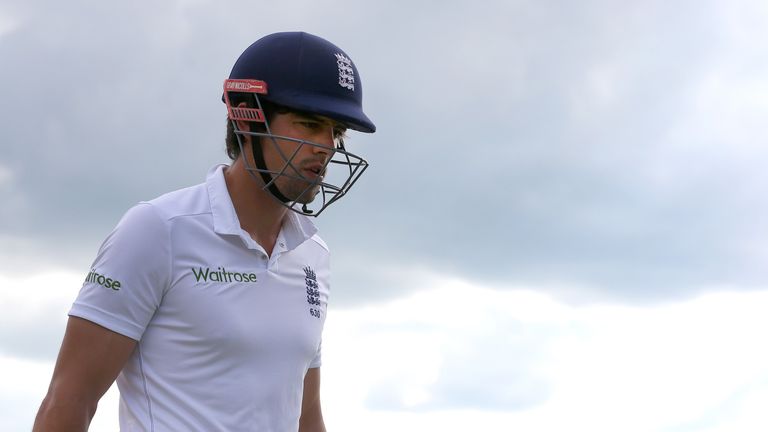 Michael Atherton says Alastair Cook's batting form must improve if he's to remain England's captain.
Cook, 29, became England's fifth-hightest run-scorer in Test cricket on Monday when he overtook Geoff Boycott on the fourth day of the second Test against Sri Lanka, at Headingley.
But he was then bowled by Dhammika Prasad for 16 – the first of a clatter of wickets that means his side began day five on 57-5 battling to draw the game and series, and requiring a mammoth and improbable 293 further runs to win.
A combination of losing matches and not getting runs is a dangerous one for a captain.
Mike Atherton
Cook scored his last century in May 2013, against New Zealand at Headingley, since when he has averaged 25 in 12 Tests - and former England skipper Atherton told Sky Sports that the left-hander's credentials will come under close scrutiny in the coming days.
"England will probably lose this game and the captaincy will be high on the list [for discussion] over the next few days.
"Losing games and not scoring runs is a bad combination for Alastair Cook – it's not a combination a captain can survive too long.
"If England lose this game then that will be six defeats in the last seven Test matches if you take the Ashes into account as well – two series defeats including the first ever defeat against Sri Lanka at home – added to which is his own personal form, which is poor.
"It has been on the slide for some time now – both the Ashes at home last year, which England obviously won, and then the Ashes away and now Sri Lanka – there has been a repetitive theme where the bowlers are bowling at him and he's really struggling.
"So a combination of both those factors - losing matches and not getting runs – is a dangerous one for a captain."