England captain Alastair Cook admits he needs runs in series with India
Last Updated: 10/07/14 1:07am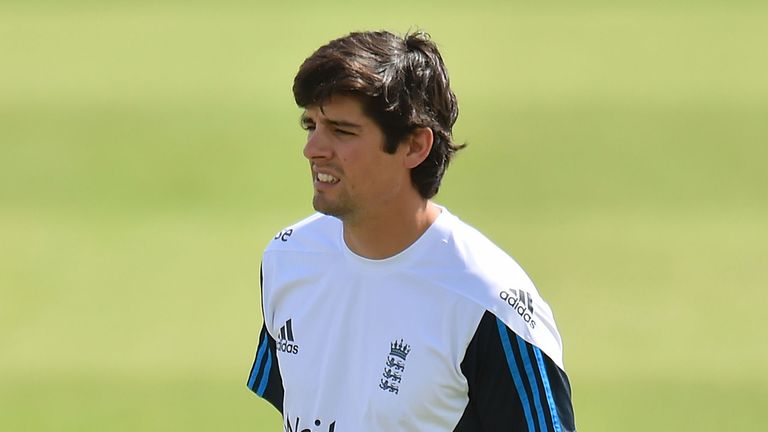 England captain Alastair Cook admits he is under pressure to score some big runs in the five-Test series with India this summer.
The first Test begins at Trent Bridge on Wednesday with Cook under pressure both as captain and as opening batsman.
England were hammered by Australia last winter and lost the recent series to Sri Lanka. And Cook has not scored a Test century since May last year against New Zealand at Headingley.
But Cook is confident that he can rediscover top form as quickly as he appears to have lost it.
"This is a really big Test series - you don't play many five-Test series. India are a really big side, there will be a lot of interest and we have got a chance to try and win a series," he said.
"I never have felt that I have been hitting the ball particularly badly. I scored some runs for Essex at the beginning of the season. I have not managed to transform that into runs for England.
"I know how important it is to do that and I'm desperately keen to lead from the front and score some runs.
"As a batter you are in there as one of the top six batters in the country and your job is to score the runs to set up the match for England. It doesn't matter if you are captain or not.
"I haven't been doing that over the last year or so. Nobody is keener than me to put that right and I have worked very hard over these last 10 days.
"I have just got to make sure my mind is totally clear so I can concentrate on the most important thing, which is that ball coming down.
"One of the beauties of form, which nobody quite understands, is that you can feel a bit rusty in the first 20 minutes, half an hour, get a bit of luck and then you are back to where you were.
"No one understands why you have these peaks and troughs in your career. The better players have less peaks (and troughs) and are more consistent.
"I know I have got to score runs at the top of the order in this series."
Asked if he thought the pressures of captaincy could be blamed for his poor run of form, Cook added: "I can honestly say that, when someone is running in bowling at mid-80s to 90 miles per hour, it has never crossed my mind what field placings I am going to set to someone else. That doesn't happen.
"When you are in the field as a captain, your mind works overtime. Then you have to go and bat, but I don't see that as a problem. I never have done.
"I just need to go back to scoring runs."
England have to decide whether to include Ben Stokes in the starting XI, the Durham all-rounder having returned to the squad after a wrist injury.
"It's a tough selection call," said Cook. "That is what you want as captain of a team.
"You have got a guy who has been out injured. He has come back and he's got 10 wickets (in a match) for Durham and he was the stand-out player for his four Tests in Australia.
"Then you have other people who have done well in his absence and so that's a great place to be.
"Whoever plays will be desperate to keep their place and that can only be healthy competition."
Watch England v India from Trent Bridge live on Sky Sports 2 from 10.30am this Wednesday.