England v India: James Anderson ready for further toil on flat Trent Bridge wicket
Last Updated: 10/07/14 11:08am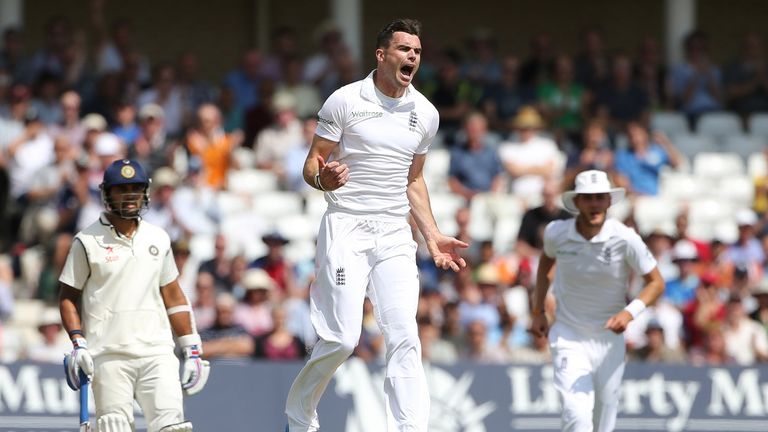 James Anderson felt England's bowlers deserved some credit after enduring a "frustrating" first day to the Test series against India.
A slow, low pitch at Trent Bridge meant it was always likely to be hard work for the bowlers, and so it proved as the tourists reached stumps on 259-4.
Murali Vijay struck an unbeaten century for India - the fourth of his Test career but his first away from home soil - while skipper Mahendra Singh Dhoni was 50 not out at the close.
It was a frustrating day. We had a couple of nicks that bounced just short.
James Anderson
Anderson took two of the wickets to fall, the first of them being his 50th at the Nottingham ground, but the Lancastrian admitted it had been hard work on such a benign surface.
"I think you have to give credit to the bowlers on a day like today," he told Sky Sports. 
"We've stuck at our jobs brilliantly. Someone like 'Puds' (Liam Plunkett), his job is to bang the pitch and to bang a pitch like that is a thankless task at times. He stuck at it brilliantly.
"It was a frustrating day. We had a couple of nicks that bounced just short. 
"There was a full-blooded drive from (Ajinkya) Rahane off Stuart (Broad) that didn't carry to second slip. When that happens it's very frustrating. You don't mind a pitch being flat but you want the nicks to carry.
"We kind of played around with the tactics throughout the day. I went really straight with a straight field and that worked really well and then we just tinkered with it, just trying to figure out what would get wickets. 
"When the nicks aren't carrying you have to find other ways."
Captain praised
As well as his fellow bowlers, Anderson also praised his skipper, Alastair Cook, for what he had done tactically on a long day in the field.
"He had a really good day," he added. "After the first couple of Tests of the summer he did get some criticism but I thought he did brilliantly. We all backed him up well, figuring out ways to get wickets and both the captain and the bowlers were happy."
Vijay's previous best score in Test cricket outside of India came in South Africa, when he made 97 against South Africa.
The right-handed opener described his 122 not out as a "dream start" to the five-match series, particularly as he had been putting in the hours in the nets to make sure he was fully prepared for the tour.
"It's a dream start for me and for us as a team as well," he said. "We've worked hard for a couple of weeks and hopefully we can continue in the same way.
"It was very important for my personal satisfaction (to get a century) because I missed out in South Africa when I got 97 and couldn't get to 100. I have been working on my game, working on the basics and it has worked."