Stuart Broad insists England captain Alastair Cook will emerge from his
Last Updated: 11/07/14 7:44am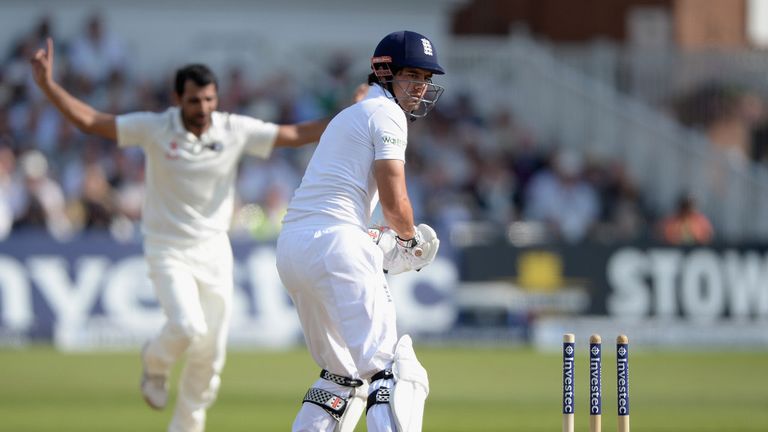 Stuart Broad insists England captain Alastair Cook will emerge from his "rut" sooner rather than later.
Cook is enduring a miserable run, both as captain and as a batsman, and Thursday's play in the first Test with India at Trent Bridge could hardly have gone worse for him.
Cook watched the tourists bat for 161 overs on their way to 457 at Trent  Bridge, with tailenders Bhuvneshwar Kumar and Mohammed Shami chipping in with maiden half-centuries.
He then managed just five runs himself before an unlikely dismissal when he was bowled round his legs by Shami, via a deflection off the thigh pad.
Cook has now gone 25 innings since his last century, seven since reaching 50 and has a top score of 28 this year.
Broad though has every faith that Cook will come out on top after what he insists was a moment of sheer bad luck.
"It is one of those things, when you're in a bit of a rut and you've not scored runs for a while things go against you," he said of Cook's dismissal.
"I can count on one hand the number of times I've seen the ball cannon off the thigh pad on to the stumps. They generally go to fine leg for one.
Disapointed
"He's just in one of those places at the minute and it will turn. It just takes a cover drive or a dropped catch to change the momentum.
"We've certainly got enough cricket in the next five weeks for it to change."
Cook's calm demeanour cracked last month when he called for "something to be done" about his critics, in particular Shane Warne - but Broad did not see any strain following his latest failure.
"He was fine. When you get out like that there's not a lot you can do," added Broad.
"If he'd drilled one to extra cover he'd have been annoyed but he was chatting away, he was chirpy.
"He was disappointed not to make a big contribution but those sorts of dismissals are so rare you can't do much about it."
Broad also echoed James Anderson's dissatisfaction with a Trent Bridge pitch that has offered no help to the hosts.
England's pacemen usually make hay in Nottingham but the docile track on offer this week has been welcomed more readily by the tourists.
"It's certainly not what England would have asked for, not what Trent Bridge would have hoped for.
"Trent Bridge is renowned for exciting cricket. You come here to see nicks carry, dropped catches, good runs, exciting shots, quick bowling ... we've not really seen a lot of that."