Cricket Expert & Columnist
'James Anderson will be fired up at Lord's after India allegations'
Controversy could play to embryonic England's advantage, says Michael Atherton...
Last Updated: 16/07/14 6:34pm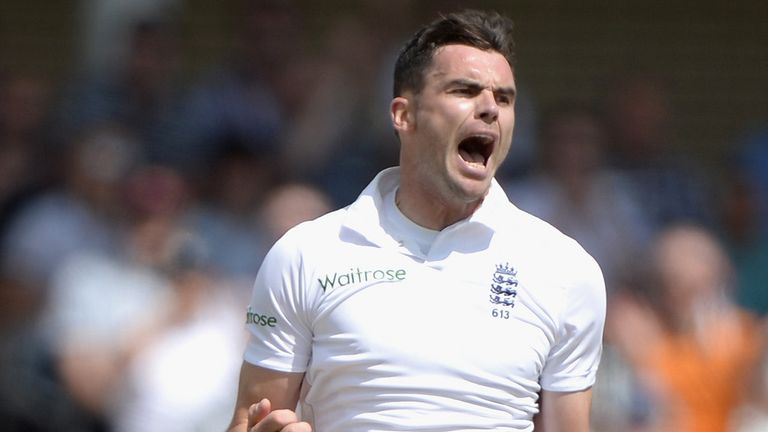 Michael Atherton says India's allegations against James Anderson could work in England's favour in the second Test at Lord's.
Skipper Alastair Cook has given Anderson his full backing after the seamer was charged by the ICC following the tourists' claim that he 'abused and pushed' Ravindra Jadeja at Trent Bridge.
Cook questioned India's motives in Wednesday's press conference and won't ask Anderson to alter his behaviour but India captain Mahendra Singh Dhoni insisted there is a case to answer.
Motivated
Atherton told Sky Sports News: "Inevitably both captains are backing their men. You'd expect that and so it is going to add a bit of spice to the occasion especially as I think both teams will be unchanged.
"It may play to England's advantage, actually; Anderson would have been feeling pretty weary after Trent Bridge but he'll certainly be motivated to come out firing on Thursday morning.
"It also might help a little bit of cohesion in this England team, which is at an embryonic stage in its development.
"I think they feel that legally this issue will be prolonged so that Anderson won't have to miss any of this Test series but India obviously feel that a line was crossed and they have to make a statement.
"Cook felt that it was a tactic to get rid of one of England's biggest threats and Dhoni was saying 'no' – there was physical contact between the two players and a line was crossed. So the two teams and captains are a long way apart."
Form
Cook's poor run of form continued in the drawn first Test at Trent Bridge as he scored only five in England's first and only innings of the match and while his captaincy won praise from Atherton during the match, the team has not won in nine Tests.
So former England skipper Atherton says the Anderson controversy has helped to lessen the scrutiny on the opener's struggles in the middle.
"It is not a bad thing for Alastair Cook because it has deflected from one or two issues England have – principally his own form," said Atherton.
"He has spent less time talking about his own form in that press conference than he has for some time; also there has not been much talk about the problems that England have with the balance of the team and the decision to bring back Kerrigan.
"A bit of tension is no bad thing. It will be a lovely morning at Lord's on Thursday, the sun will be shining and there will be a full house but a bit of needle between the two teams is not a bad thing."
Greener
Atherton described the flat Trent Bridge pitch as a 'horror' surface for Test cricket, giving batsmen easy supremacy over the seamers.
While he hopes the pitch at Lord's will have more life, he expects England's likely attack of Anderson, Stuart Broad and Liam Plunkett, supported by all-rounder Ben Stokes, to suffer more hard yards.
"It was quite green before the Test against Sri Lanka," he said. "I think it is a little greener now – I don't think the groundsman is going to cut it," he explained.
"England won't want to change their team – I think it is too big a gamble to play Simon Kerrigan even though he has been brought back into the squad. They will want to go in with those four seamers and they'll want a pitch that offers those four seamers something.
"Whether it does, time will tell. The problem is the temperature. You can envisage a situation where you win the toss and the pitch looks quite green and it's 30 degrees with scorching temperatures predicted for Thursday and Friday – what do you do?"
Watch the first day of the second Test between England and India live from 10am this Thursday on Sky Sports 2.