England hit back in James Anderson row with charge against India's Ravi Jadeja
Last Updated: 17/07/14 9:32am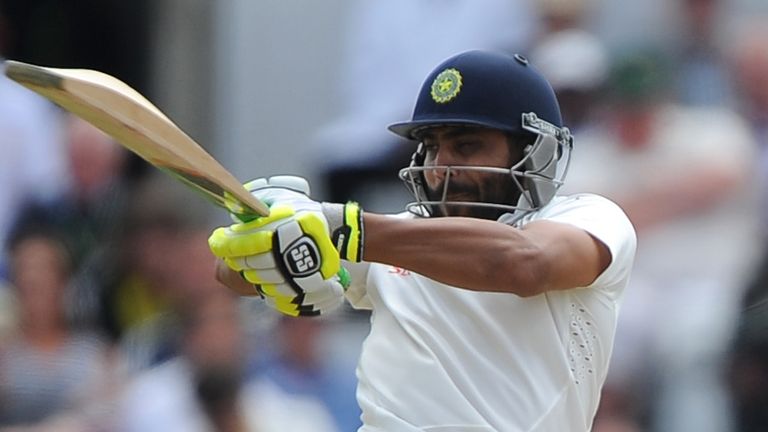 India all-rounder Ravindra Jadeja has been charged with a Level 2 offence under the ICC Code of Conduct following a complaint made by England in response to the charge issued against James Anderson.
Fast bowler Anderson, 31, was charged with a Level 3 offence earlier this week for allegedly abusing and pushing Jadeja at lunch on the second day of the first Test at Trent Bridge.
The ICC code of conduct prohibits the threat of assault on a player, team official or spectator but the the England and Wales Cricket Board have contested the misconduct allegations and are now seeking sanction against Jadeja.
A Wednesday press release read: "The ICC today confirmed that England team manager Phil Neale has charged India's Ravinda Jadeja under Level 2 of the ICC Code of Conduct for Players and Player Support Personnel for an alleged incident that took place on the second day of the first cricket Test at Trent Bridge.
Threat
"The alleged offence has been reported under Article 2.2.11 of the ICC Code, which states: 'Where the facts of the alleged incident are not adequately or clearly covered by any of the above offences, conduct that either: (a) is contrary to the spirit of the game; or (b) brings the game into disrepute'."
All Level 2 breaches carry a fine of between 50-100 per cent of applicable match fees and/or up to two suspension points. Two suspension points equates to a ban of one Test, or two one-day internationals, depending on which type of match is scheduled next for the suspended player.
Level 3 breaches carry a penalty of between four and eight suspension points which could see Anderson under threat of missing between two and four Test matches.
However, it is understood that Anderson is in little danger of being ruled out of the second Test at Lord's, which begins on Thursday, or even the third at Southampton, because of the timeframe of such proceedings.
Former India batsman Rahul Dravid told Sky Sports he does not believe India would deliberately try and get Anderson suspended.
"I don't think they would stoop to that level by making an allegation like that. I think it's a serious allegation and should not be trivialised," he said.
"Whether it is true or not, I don't know. But I don't think India would make a false allegation."