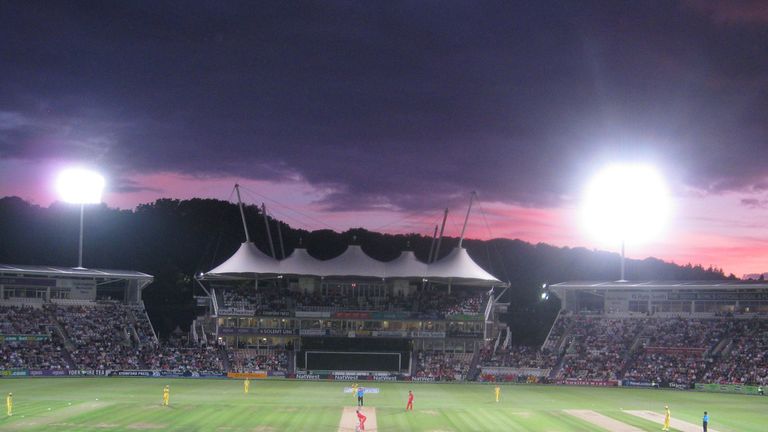 Hampshire chief executive David Mann says the Sunday start for the third Test between England and India has adversely affected ticket sales.
Test matches in England usually start on a Thursday, but the third Test begins at the Ageas Bowl on Sunday.
The first day will see a bumper crowd, but Mann says the following days have been harder to sell.
"It's been difficult. We are incredibly proud to have a Test here and it's a real opportunity to showcase the ground and all the money we've spent on making it one of the best grounds in the county, if not the world," Mann told Sky Sports News.
"It's not been ideal, the Sunday start. There has never been a Sunday start, as far as I'm aware in the UK.
"Sunday tickets, we pretty much will have a full house. Monday and Tuesday have been more difficult to sell – in particular corporate hospitality, there just isn't a market.
Poor form
"We'll be over 16,000 on Sunday and just over 10,000 for Monday but they are still selling. We're selling about 700 a day. So 12,000-ish on Monday, and little less thereafter."
Mann admits England's poor form – not a single Test victory since last summer – is another factor.
"It always helps if England are doing well," he said. "The fact we didn't have a great winter hasn't helped us. It is particularly the Sunday start. Trent Bridge sold pretty well, and Lord's too, so it is the Sunday start."
Regardless of the Sunday start and England's poor form, Mann is confident the Ageas Bowl will become a fixture on the international circuit.
"The aim is absolutely to be regular Test venue," he said. "We've spent an awful lot of money - £50million. We're really trying to up the standard for the media, for spectators. There will be a spa and hotel, a golf course and a big thing is the community side of it.
"We've a new community centre and we are really trying to get people involved in the game. We're trying to get youngsters who wouldn't otherwise have played cricket, to get them inspired."
Watch the third Test between England and India at the Ageas Bowl live on Sky Sports 2 from 10am on Sunday.