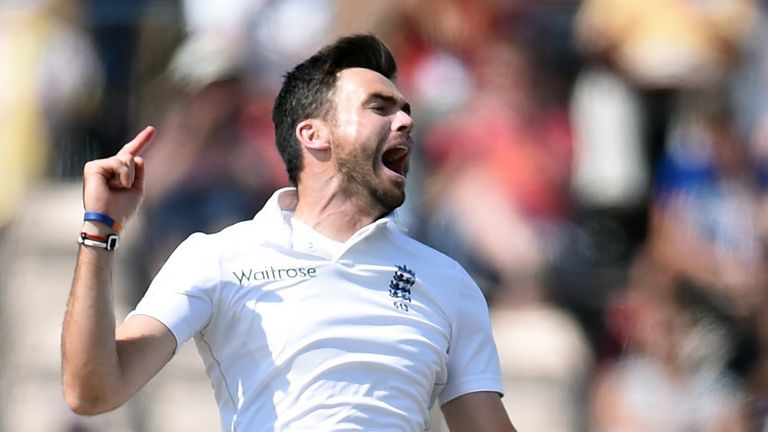 James Anderson will be free to play for England in the fourth Test against India at Old Trafford after being found not guilty of breaching the ICC's Code of Conduct.
India's Ravindra Jadeja was also cleared of breaching rules and he too will be available for selection next week.
The England fast bowler could have been banned for up to four Test matches if he was found guilty of a Level 3 charge of "pushing and abusing" India all-rounder Jadeja in the pavilion stairwell during the first Test at Trent Bridge.
But ICC judicial commissioner Gordon Lewis decided neither player transgressed, meaning Anderson is free after all to play on his home ground.
Jadeja was appealing against a 50 per cent match-fee fine for a Level 1 offence relating to the same incident and Anderson's case was being considered in full for the first time, but no verdict was expected until the weekend.
But in a press release, the ICC said: "His Honor Gordon Lewis AM, the judicial commissioner, has found both England's James Anderson and Ravindra Jadeja of India not guilty of breaching the ICC code of conduct.
"The judicial commissioner reached his decisions following a six-hour hearing, which took place via video-conference.
Witnesses
"Witnesses, including some Indian and English players, provided evidence and were cross-examined by the respective legal counsels.
"The ECB and Anderson were represented in the hearings by Nick De Marco, while Adam Lewis QC represented Jadeja.
"The hearings were also attended by the two team managers, the ECB's Paul Downton, the BCCI's Sundar Raman and MV Sridhar, the ICC's general manager - cricket, Geoff Allardice, and the ICC's ethics and regulatory lawyer, Sally Clark."
It was alleged that, after Anderson and Jadeja had exchanged words as they left the field for lunch on day two of the first Test, their disagreement had escalated out of the public view.
Anderson delivered a man-of-the-match display at the Ageas Bowl this week to help level the series.
Sky Sports cricket expert David Lloyd said the whole situation was a "farce" and criticised India for taking it so far.
In his blog, Bumble said: "It beggars belief that people from all over the world are getting involved because somebody got pushed. I wasn't there and I don't know what happened so I can't sit in judgment, but I'd like to know if the lad was hurt. Was he able to continue playing? Yes he was. 
"These are supposed to be adults. It's a good job these lads never played against Dennis Lillee and Fred Trueman. There was no 'mummy, mummy he's pushed me' in those days. he Indian players may be mega superstars in their own country, but they ain't here. I wonder if they are getting a little bit above their station?"