Mark Arthur concerned about current number of international grounds in England
Yorkshire's Mark Arthur has warned the current number of international grounds in England is "unsustainable".
Last Updated: 25/05/13 2:42pm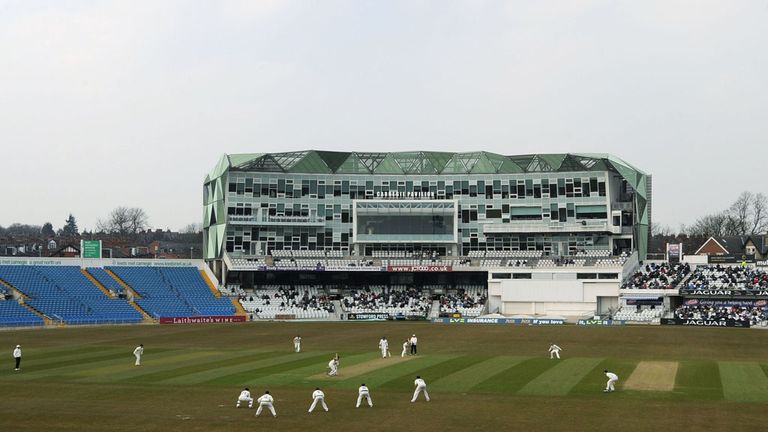 The six traditional Test grounds have been joined in recent years by Hampshire's Rose Bowl, Glamorgan's SWALEC Stadium and Durham's Emirates ICG Stadium, while Bristol has one-day international status and Taunton is close to being handed the same.
As a result the battle for matches - especially the most desirable mid-summer Tests and higher-profile limited-overs games - is increasingly intense.
And Arthur, speaking after rain washed out day one of England's second Test against New Zealand at Headingley without a ball being bowled, believes the current model is close to breaking point.
"Now there's a huge bidding process with 10, soon to be 11, international grounds it's unsustainable really," he said.
"There's a finite amount of international cricket in this country, to spread it among 11 international grounds and expect all those grounds to be at the same level as the top international grounds around the world, that's not going to work.
"We're all after a sustainable game of cricket at club, county and international level, we have to work together to get that balance.
"You don't want clubs bankrupting themselves just to stage matches. Clubs are asked to improve the fabric of the grounds, so you need positive cash-flow in order to do that.
"It used to be a rota basis. You could set business plans according to when you knew you would miss out on a particular Test match. On an eight-year programme you knew what you would be getting but now there is a huge bidding process."
Disparity
Arthur also addressed the difference between the heaving crowds that are a feature of Lord's and The Oval and the relative struggle to fill more northerly stadiums such as his own.
He admitted such a disparity existed but cautioned against favouring grounds in the south, purely on a monetary basis.
"It's important to understand that not everybody has the spending capacity of those people that live in the south-east of the country," he said.
"That has to be factored in by the major match group when they're allocating matches. There's a finite amount of money that you can charge out in the provinces.
"One of the best things that happened to football was when Wembley was being rebuilt because for a period of time they took England games around the country and more people were able to watch and connect.
"That's a unique factor of international cricket...it does get taken around.
"My understanding is that the major match group are looking at extra factors rather than pounds shilling and pence. They have a greater responsibility rather than just awarding matches to those people who provide the most money."