Jon Lewis: Durham in no hurry to complete title-winning victory
Coach Jon Lewis says Durham are happy to play the long game to secure their third County Championship in six years.
Last Updated: 18/09/13 8:30pm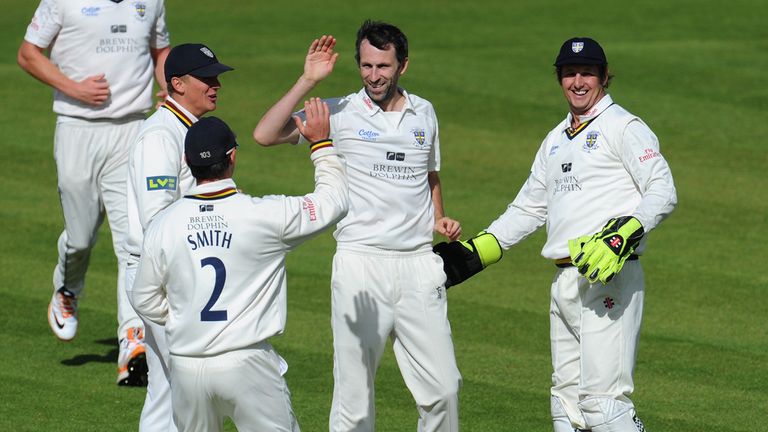 Durham closed the second day of their match with Nottinghamshire on 7-0 in their second innings and another 62 runs will see them win the game, and the Division One crown.
They could have asked to take the extra 30 minutes of Wednesday evening, and considered doing so in a bid to smash their way to the title and avoid sweating on the weather in the next two days.
The forecast is rainy for most of Thursday, though it should clear up in late afternoon, and is set fair for Friday.
Lewis therefore opted not to risk a late clatter of wickets in a bid to finish the match off.
Lewis said: "We were doing some calculations as they got to eight down and nine down, and even when we got the 10th wicket.
"As the guys came off, we had a quick chat with Colly (skipper Paul Collingwood). We talked about it and Phil Mustard was very keen to strap his pads on - not surprisingly, Phil likes quick cricket.
Panicking
"I broached it with the umpires. One said he didn't really think it was a goer, the other said, 'We would have to see how you played the first over'.
"It was just looking like it was getting a bit silly and with two days to go, we thought, 'There's no need to panic here, let's just get it done properly tomorrow'.
"If tomorrow was the fourth day, it might have been a bit more of a worry, but it's the third day.
"We are pretty confident. If there's a bit (of rain) about, we might have to sit around for a while, but it's not like we are going to be panicking or anything.
"There's plenty of time in this game. The light would have been an issue, but it was the difficulty of playing the new ball on this pitch.
"The new ball is the key part, so why put ourselves under any additional pressure when we have got about 190 overs left in the game, in theory?
"If it had been Day three, maybe it would have been something we would have thought about in case the weather just sat there all day tomorrow, but Friday looks fine anyway, so we are quite comfortable."