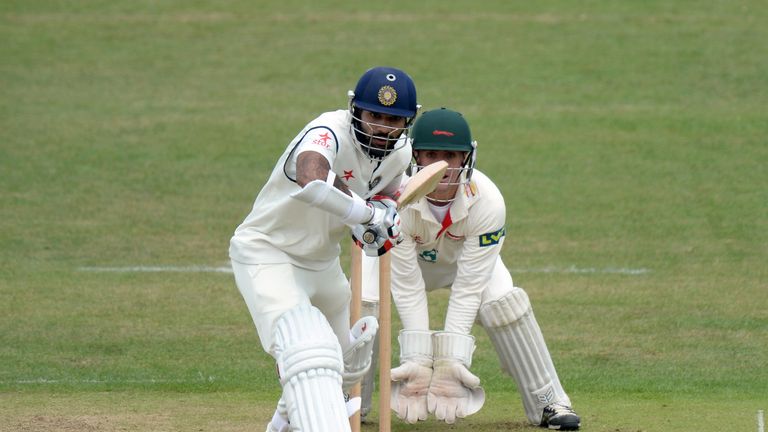 A minor concern over a blow to Shikhar Dhawan's arm was the only blip as India declared at 333-4 on day one of their England tour opener against Leicestershire at Grace Road.
A succession of batsmen, including Test opener Dhawan, passed 50 and then decided to step aside and allow others match practice against a second-string Leicestershire attack.
Dhawan (60) left the fray immediately after being hit near his right elbow by rookie seamer Atif Sheikh - but it was subsequently confirmed he has not suffered a significant injury.
Half-centuries too for Gautam Gambhir (54) and Cheteshwar Pujara (57) helped India piled up the runs after they won the toss.
Squad game
This three-day fixture lost its scheduled first-class status once the hosts agreed to the tourists' request to play as many of their 18-man squad as they choose.
India will bat only 11, however, against opponents who were in fruitless action against Surrey at The Oval the previous day but nominated only four of those beaten by 10 wickets in London to see out a week-long marathon of cricket.
England vs. India Tickets
Leicestershire are bottom of County Championship Division Two, without a win in nine matches this season - and fielding a much-changed side, it was little surprise they were unable to tame India's Test top order.
On a pitch tinged with green and offering decent carry, Dhawan escaped on nought and went on to prosper on a sunny morning for a 79-ball 50 which contained 10 fours.
In the first over of the match from Anthony Ireland, Dan Redfern was unable to hold on to a sharp head-high chance offered to third slip.
Instead, India had 46 on the board before Leicestershire managed a first breakthrough - Murali Vijay aiming a drive towards mid-on and edging some full-length swing from Ireland to gully.
Dhawan reached his half-century shortly before lunch but was bounced out of the action in early afternoon by a delivery that appeared to perhaps not quite make the expected height.
Pace
Sheikh, 23, worked up some useful pace from the Bennett End in a spell which belied a career record featuring just one previous first-class appearance, for Derbyshire against Gloucestershire back in May 2010.
Gambhir, joined by Pujara, duly passed his 50 in 95 balls and shortly afterwards decided he had done enough - vacating the crease to allow Virat Kohli a turn.
Increasing cloud cover gave the batsmen a little more to think about after tea - and almost immediately after a direct hit would have run Kohli out, following a poor call for a single by Pujara, he was undone by a hint of swing as he drove a little loosely at Shiv Thakor and was bowled off and middle stump for 29.
Pujara called time on himself after he reached his 50 in a comparative spate of boundaries, having been largely watchful for long periods.
It therefore fell to Ajinkya Rahane and Rohit Sharma to bag some more runs as a full house of India's feasible specialist Test batsmen this summer all reached 20 at least, and home captain Matthew Boyce ran through eight bowling options.