A T20 tour de force
Nass, Bumble, Athers and Wardy give us the inside track in their Friends Life t20 Finals Day prologue.
Last Updated: 24/08/12 11:52am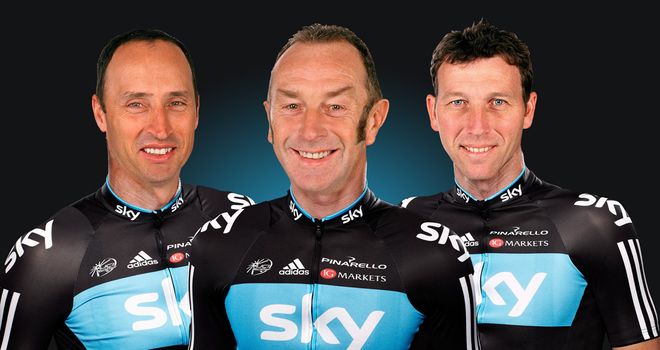 It's been a long road but the biggest day in English domestic cricket is here!
Four teams remain in pursuit of the Friends Life t20 title - but only one of Sussex, Yorkshire, Hampshire and Somerset can break-away from the bunch to win on Finals Day in Cardiff this Saturday.
As this is the tenth season of T20 cricket on Sky Sports, we've clicked into top gear and wheeled out four of our top performers to give us the lowdown on who to watch out for.
First up is Nasser with a few opening thoughts...
Nasser's Overview
Finals day is just too tough to call now. Look at last year - there were three better teams than Leicestershire but they went and won! All four sides are fantastic this year. Yorkshire and Sussex both have great records - they only lost one group game. Sussex look great on paper, especially in the batting, and they are well led by Michael Yardy. Hampshire know exactly what they're doing; they've been there so many times that they won't bottle it. And then there's Somerset, a team who have been through so much and who I'd really like to win this year...
Bumble on Yorkshire
They won't like it because I never get it right, but I've backed Yorkshire to win it. They're the best team that I've seen in the competition this year, (although I must admit I haven't seen Sussex so I can't judge them properly). Yorkshire have been terrific because they give it a bash and they bowl very well. They have some problems because Mitchell Starc, the Australian, isn't playing for them and unless the ECB change their mind Tim Bresnan will be missing, too.
However, Ryan Sidebottom should play and they have some real firepower because Jonny Bairstow is allowed to play. You should also look out for Joe Root, the brilliant David Miller and Gary Ballance, who is a proper player. They are strong all-round and I would say they are the best fielding side I've seen. You can't afford any passengers in that department in Twenty20 cricket!
Key man - Garry Ballance
He's got a very famous uncle in David Houghton, who was the captain and coach of Zimbabwe and he gives it an absolute belt. I would say he's chunky, he's a bit of a heavyweight, but he's a flipping good player. He's only a young boy, but he's got a fabulous future - an international cricketer for sure. He's one to watch out for.
Nasser on Somerset
Marcus Trescothick is a good lad and it's got to the stage where I think that he and Somerset deserve to win something. Somerset's recent record in finals will weigh on them - they'll know that they've struggled to get over the line. Until they do, it will be an issue for them. The only bit of advice I can give them is to enjoy the day and not build it up too much in their minds; they all know how important it is, so they mustn't overdo it or do anything different like turn up earlier. If anything, they should play it all down a little bit and try to replicate what gave them the edge in their Group games.
They've got everything they need to win - now they just have to deliver. If Trescothick and Craig Kieswetter - who is a very, very good one-day cricketer - can fire at the top, then that's a great platform for the likes of Peter Trego, James Hildreth and Jos Buttler to try and wreak havoc. I really like Trego - he's a serious hitter of the ball and a difficult man to get away - and Alfonso Thomas, too. 'The Great Alfonso' has got all of the variations, all of the tricks that you need if your team is in a tight spot, so let's hope he's fully fit.
Somerset have got spin bowling options - George Dockerell served them well in the group stages and now Abdur Rehman is on the scene - and that will be important if they reach the final, which will be the third game played on the same pitch. But I think they'd prefer it if the ball nips around a little bit and comes onto the bat a little bit more. More than anything, though, it will come down to how they handle pressure on the day.
Key man - Marcus Trescothick
Trescothick has a crucial role to play at the top of the innings. He got some decent runs against Nottinghamshire last week and seems to be in back in a bit of nick. Generally in finals he's not played that signature, defining innings. If he can do that at the top of the order, then they've got a real chance of making their mark.
Athers on Hampshire
They've a decent record when it comes to Twenty20 Finals days and that experience should stand the squad in good stead. We don't really know at this stage what the pitch at Cardiff is going to be like, but if it's slow and low as it can be there then certainly Dimitri Mascarenhas' bowling should come into its own, while the batsmen's ability to target the straight boundaries will be important. From what I've seen of Somerset and Sussex, they strike me as stronger and more talented teams but Hampshire might be better at playing to the conditions.
Neil McKenzie - the star of their quarter-final win over Notts - always surprises me with the range of shots he has at his disposal in Twenty20 cricket. Maybe he'll surprise me again at the weekend! James Vince is a very stylish player, too, while Jimmy Adams is a strong influence at the top. From what I've seen of them, they seem a fairly youthful side and they fling themselves around in the field. Danny Briggs has not had as big an impact on the competition yet as he would have liked but will be buoyed by his inclusion in England's T20 squad and while Glenn Maxwell is no longer around, Michael Carberry is someone you underestimate at your peril.
Key man - Dimitri Mascarenhas
I'm going for Dimi on the basis that conditions might suit his nagging medium-pace. You generally think that what he bowls is fairly innocuous and that people should get into him but he bowls straight and a nagging length; when conditions suit and there's not much pace on the ball then he can be as difficult to get away as anybody. He's a very good hitter straight, so those short boundaries will be under threat if he gets in; he could well come into his own if he comes in down the order
Wardy on Sussex
Sussex have got some very, very good hitters of a cricket ball. Matt Prior has almost reinvented himself as a Twenty20 player - some of the innings he's played this season have been incredible. Then there's Scott Styris, who whacked a hundred off 37 balls against Gloucestershire and Luke Wright, who has fully deserved his England recall. So the power-hitting is there. They've also got some good manipulators - people like Murray Goodwin and Michael Yardy - if they need to get into nudge and nurdle mode because the Swalec might be a bit slow and could turn depending on the weather.
The basic premise of Twenty20 cricket hasn't changed from day one. As Adam Hollioake used to say, hit the ball for six and take wickets. However no-one quite anticipated how important spin bowling would be and Sussex have got plenty of options in that department with Yardy, Will Beer, Monty Panesar and Chris Nash. There's never going to be a whole heap of pace at Cardiff, so if it's a slow pitch that offers a little bit of turn it should favour Sussex and Hampshire over the other two. Styris and Wright have their roles to play with the ball too, but Chris Liddle has led the way in terms of wicket-taking while Amjad Khan has looked sharp.
Key man - Scott Styris
Take your pick - it could be Prior, Wright or Styris. It's a toss-up between those three. However, if you were playing Sussex and had the option of taking one person out of their team I think it would be Styris, simply because you know he can smash a hundred off 37 balls.
Don't miss T20 Finals Day this Saturday - live on Sky Sports 1 HD from 10.30am.