FLt20 Finals Day: Sky Insiders Chris Wood and Matt Spriegel gives us the lowdown
Get the lowdown on Friends Life t20 Finals Day from Sky Insiders Chris Wood and Matt Spriegel.
Last Updated: 17/08/13 11:04am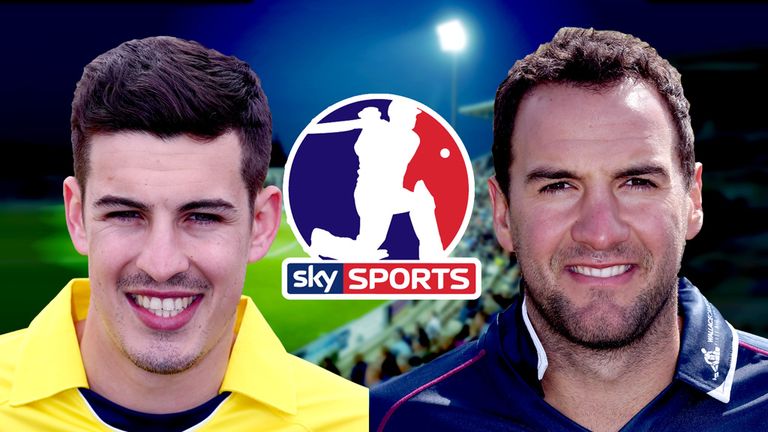 After a long hard slog in what has been (at times) a particularly hot summer the pressure is now on Essex, Hampshire, Northants and Surrey to deliver at Edgbaston.
And for some of the players there is the added dimension of chatting to our Sky Cricket commentators and giving us their unique perspective on the game from the thick of the action.
Throw all that into the mix and anything could happen - and probably will! But now it's time to get the lowdown from a couple of our Sky Insiders on their FLt20 season so far...
Matt Spriegel - Northants
Best display under pressure?
Cameron White's 71no in our away game against Glamorgan was a massive performance because we knew that if we won the game we'd get a home quarter-final. You always feel like you should chase down a target like 126 but it doesn't always turn out like that! However this time Cameron batted through the innings and got us over the line with a couple of overs to spare. He hits a long ball but he can pick and choose when he does it, which is an unbelievable ability to have.
Best catch you've seen?
Karl Coetzer took a really good low diving catch at deep extra cover on the run in our second game against Warwickshire off Graeme White's bowling to remove Rikki Clarke. It was all the better because we'd done a little bit of planning and knew that's where he wanted to hit it.
How are preparations going?
Most of the guys have been quite lucky in the sense that we've had a couple of one-day games this week so it's been a case of more of the same rather than trying to change our preparation. It has probably been a touch more difficult to focus on the one-day games knowing that Saturday is just around the corner and everyone is looking forward to it but we're just trying to keep our momentum going towards Finals Day. Obviously it's a massive day for everyone and we just want to try to put in the performances that we've done so far.
Who are you rooming with?
I've roomed with a variety of people so far this season but if I can avoid one person on Friday it will be Dave Murphy because he's one of the most hyper-active people I've met! I spent the afternoon with him before the quarter-final and it was like all of his Christmases had come at once - so I'm praying that I'm not rooming with him on Friday because I'll doubt he'll get any sleep!
Current team tune?
This is my first year at Northants but the running theme seems to be that we play one song for about a month until we're sick of it to the point where we have to turn the radio off every time it comes on! Currently the song being murdered in our changing room is 'Wake Me Up' by Avicii.
Chris Wood - Hampshire
Best display under pressure?
It's a tough one but I'm going for Tanvir Sohail's last over against Lancashire in the quarter-final. They needed 17 off the last and he started with a no-ball but in high pressure situations like that you need someone to come up and deliver and Tanvir did the job and saw us through to Finals Day.
My heart was in my mouth because I bowled the previous over and after a good start my last two balls went for four and six! It brought back memories of last year's CB40 final at Lord's where I again bowled the penultimate over and conceded two fours off my last two balls. I thought I'd lost it there then too but thankfully we came through again.
Best catch you've seen?
There have been some brilliant catches, but I'm going to go for Gary Ballance's unbelievable one-handed effort for Yorkshire against Leicestershire to get rid of Josh Cobb because it was quite possibly the best catch I've ever seen! It was pure instinct - it was one of those that you might see someone pull off in training and everyone gets all excited about it - but to do it in a game and one that is on Sky is exceptionally rare. Gary was in the right place at the right time and somehow he managed to dive back and catch it just within the rope. Two chances went over my head the other day against Lancashire that would have been unbelievable catches but I managed to drop them both!
How are preparations going?
Our players will be doing their bit to make themselves that little bit better for Saturday but with the amount of cricket we've had this week - including a trip to Scotland - chances to train have been slightly limited! We haven't done too much T20 training since the quarter-final so it's a case of people backing what they've got already, enjoying it on the day and hopefully implementing their skills.
Who are you rooming with?
I don't think there'll be too much going on this Friday night - I'd be pretty surprised if there was. We mix it up a bit here at Hampshire but the majority of the time I room with James Vince, who is a great mate of mine, or it might be another fellow youngster who I've come through the academy with.
If it's Vincey I won't bother giving him any batting tips because he strikes the ball a lot better than I do but he likes to think he's a bit of a bowler so he will probably try to give me a few tips here and there!
Current team tune?
We've had Danza Kuduro by Don Omar and Lucenzo as our team song for the last couple of years - that's one that gets played quite a bit during Twenty20. We don't listen to it when we lose so I only associate it with happy memories!
Watch all the action from this year's Friends Life t20 Finals Day from 10.30am on Sky Sports Ashes this Saturday.