FTI Most Valuable Player 2014: Worcestershire's Moeen Ali the man to beat
Last Updated: 04/04/14 11:57am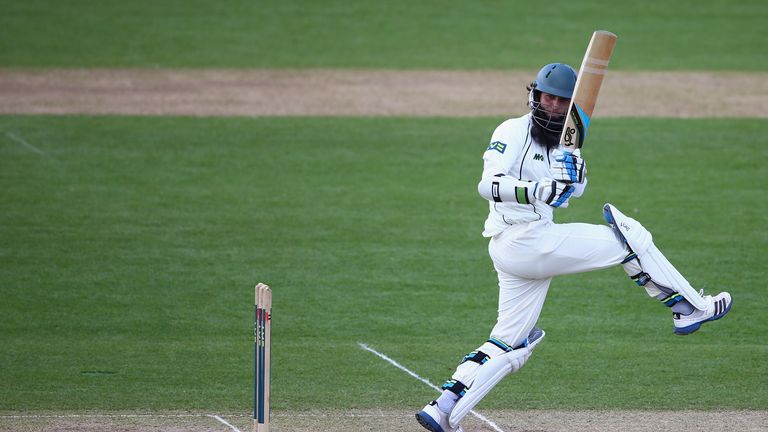 Worcestershire's Moeen Ali will begin the defence of his FTI Most Valuable Player Award at Hampshire as the County Championship begins on Sunday.
The 26-year-old, who is available after England failed to reach the quarter-finals of the World Twenty20, scooped the prize last year in the most closely fought contest to date, after he held off Nottinghamshire's Samit Patel to triumph by just four points.
The FTI MVP analyses the performances of players on a like-for-like basis with points earned for every run scored, wicket taken and catch held in all forms of the game.
The ranking system, run by the Professional Cricketers' Association, is now in its eighth season and comes with a £10,000 reward for the overall winner and £5,000 for the player who tops the NatWest T20 Blast table.
PCA Assistant Chief Executive Jason Ratcliffe said: "It's an exciting time of year and everybody will have high expectations and aspirations for the season ahead. One of those aspirations will be to take Moeen's crown and the £10k cash prize. 
"Form can be fragile at the best of times, let alone through a long English summer and so the winner will have to maintain marathon form and avoid the pitfalls of injury to come through and take the title in September."
Bowlers receive higher marks for good economy rates, bowling maidens and for dismissing the top order, whilst batsmen are rewarded for high run rates and the percentage of the team's runs they hit.
Player                          Batting  Bowling     Fielding   Wins        Pld           Pts        Ave
Moeen Ali (Worcs)     350.56   213.87        22               14           38           600         15.79
Samit Patel (Notts)     302.83   238.11        35                20           41           596         14.54
D Stevens (Kent)       330.75   199.10        24                12           37           566         15.30
J Allenby (Glam)         323.25   171.50       28                 16           37           538         14.55
G Napier (Essex)        182.52   295.19       17                 19           40           514         12.84
B Stokes (Durham)     242.30   222.28       25                20           36           510         14.15
P Trego (Som)             291.18   177.92     15                  15           37           499         13.49
M Hogan  (Glam)         47.45     404.70     18                 17           36           487         13,54
S Borthwick (Dur)       277.88   148.17     38                 23           39           487         12.49
M Klinger (Gloucs) *  430.30      0           25                 14           37           483         13.06
Previous winners                         Points
2013    Moeen Ali                              600                 
2012    Peter Trego                           501
2011    Marcus Trescothick               597
2010    Neil Carter                             643
2009    Marcus Trescothick               632
2008    Martin Van Jaarsveld             553
2007    Ottis Gibson                           736

For more information on the FTI MVP ranking system visit www.thepca.co.uk
* Includes 14 captaincy points